Photographer chronicles Eudora for sesquicentennial
For the past several weeks, Cat Rooney has made it a point to walk through Eudora's streets as an active watcher.
Each time, she keeps a digital camera around her neck to capture what she sees.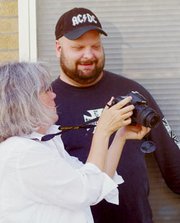 She might snap the outline of a building downtown, or study the play of light off of neon signs.
She photographs citizens working on their cars or in the middle of everyday life.
Her jaunts are part documentary and part creative expression. It's all part of her effort to add something to the city's sesquicentennial celebration.
"It's a great way to meet people and spend time in the city," Rooney said.
Sesquicentennial committee member Cindy Higgins recruited Rooney because she knew Rooney enjoyed photography.
Higgins is in charge of the "City of Eudora Sesquicentennial Edition" book to be released by the committee.
"It looks really good," Rooney said.
Before beginning her work for the committee, Rooney used her photographic skills to further her hobby as a landscape painter.
She also wanted to add pictures to her print submissions to The Epoch Times, an internationally published independent journal. During the day she works at Kansas University as a project coordinator.
Rooney's goal is to capture the modern-day Eudora.
To do so, she studies photos of Eudora's past.
She finds photographs with people or surroundings and tries to match up older scenes with recent counterparts.
"What I notice in the old photos are things having to do with cars and people," she said.
One of her current tasks involves a photo of construction workers on the roof of an older Eudora school building. For a modern equivalent, she plans to find workers constructing the roof of the new Eudora Aquatic and Recreation Center.
"It's a documentary and it's more of a documentary of today than a 'then and now,'" Rooney said.
In her study of the old photos, she has seen relics of Eudora's past like a now defunct Varsity movie theater. She also finds aspects of Eudora that have carried on like the perseverance of an "OK" car lot, she said.
"There are all kinds of neat pictures," Rooney said.
Her adventures with her camera helped her connect with the community, she said.
"I like to get out there and take cool shots and meet people. That's what the project has allowed me to do," Rooney said.
She plans to make her photos available as part of a scrapbook that will be available during the sesquicentennial celebration.
Her photos will be shown during a slideshow on the first day of the celebration Oct.5.
Rooney also asks residents to share their photos of Eudora both older and modern to add to the project.
"They don't have to be for the 150th, because families are the heart of Eudora," Rooney said.
For more information about the sesquicentennial photo project, call Rooney at (785) 727-0808.