Monday evening's 7-on-7 scrimmages may have been devoid of late-August intensity and the satisfying sound of colliding shoulder pads, but they provided the Eudora Cardinals an opportunity to take their first steps toward a new season.
Eudora lost to Baldwin, 3-1, and defeated Turner, 2-0, in two non-contact 7-on-7 games played at De Soto High School.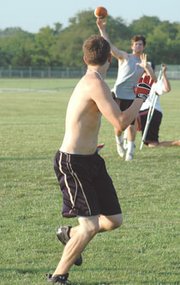 As is often the case in high school football, with a new season comes new personnel. In Eudora's case, the retooling is taking place on the offensive line.
"Right now we're putting some new kids out there," Eudora coach Gregg Webb said. "They're young, raw and inexperienced, but they have potential."
After the graduation of all five starters from a unit that helped propel the Cardinals' explosive offense last season, the Eudora coaching staff will spend the summer grooming a new batch of linemen. Webb said sophomores would fill most of the holes in the offensive line.
Replacing an entire offensive line presents quite a challenge, but it appears the coaching staff faces an even bigger question mark at the quarterback position. For now, Webb is hoping to find a potential replacement in senior Matthew Abel.
"We're not expecting him to be Dan Marino," Webb said. "We need him to throw just enough to be effective."
Webb said Abel's athleticism is his biggest asset -- he possesses enough speed to burn defenses outside of the pocket -- but he has struggled to throw accurate passes.
The Cardinal defense left little to be desired in Monday's action: Baldwin only scored on interception returns and Turner failed to find the end zone. Webb said the two shutouts illustrate the fact that the defense could be the team's strongest point in 2007.
Eudora's depth allowed the coaching staff to use the majority of players on either offense or defense, instead of making them play on both units. The advantage was visible on Monday, as the Eudora players were able to save energy and outrun their fatigued opponents.
The 7-on-7 games gave the Cardinals an opportunity to showcase the skills they acquired earlier in the month at the Northwest Missouri State Football Camp. Twenty-six Eudora players participated in the team activities from June 8 to 10.
"The camp really cleared the team's mind," Webb said. "It was a great opportunity to get back into football for the year."
Though more than a month remains before the season begins in earnest, Webb and the Cardinals will spend the summer shuffling personnel in an effort to build on last year's success.