State again sends Cards home disappointed
The Eudora wrestling team had a lot going for it at the state tournament Friday and Saturday: a regional champion, a highly ranked senior and three other competitive wrestlers with strong records. But by the end of the first round, Travis Clarke, Jake Love, Tim Durkin and Richard Wilks were shuffled into the back end of the bracket. Evan Meyers joined them one round later. Two wrestlers were eliminated one round later. That disappointment continued into the third round, when the last three wrestlers bid their farewells to the tournament and Eudora again was sent home without a medal.
If this year's finish sounds familiar, it's because it is. It was much the same story a year ago.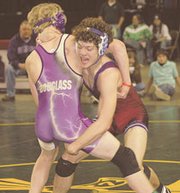 Coach Bill DeWitt said the similarities between the two state finishes were striking.
"I feel like the (Kansas University) Jayhawks -- sometimes all you can do is scratch your head," DeWitt said of his team's early post-season exits. "It's not from a lack of effort. It's just when we get on that stage, we can't get over that big hurdle.
"I thought we'd do better these last two years, but we just haven't stepped up our game when we needed to."
DeWitt said there were several contributing factors to this year's dismal finish. Mental toughness was an issue for the five Cardinals at the state tournament. But what DeWitt said was the primary problem was the fact most of his wrestlers do not do any offseason work or practice.
He said although he was disappointed for his team, he understood it would have been hard to advance too far in the tournament without having wrestled year-around.
"The lesson we learned was that we have to make a commitment and work more during the offseason," DeWitt said. "We bring back some good opportunities next year, but if we want our season to be great, our season has to last longer than four months."
Although the tournament concluded on a mostly sour note, DeWitt said he did notice some exciting matches. Chief among them was Meyers' first round 11-2 victory to Jason Swearingen of Independence in the 189-pound class. Meyers was pinned one round later in just under two minutes.
On the second day, 130-pound Clarke met Jake Hoesli of Concordia. Clarke bested Hoesli just two weeks before at the Concordia dual tournament. However, Clarke found himself pinned after two minutes, 36 seconds.
Love, at 160 pounds and Wilks, at 275 pounds, both went 0-2. Wilks lost to state champion Atticus Disney in the first round. Clarke, Meyers and 215-pound Durkin each went 1-2 for the tournament.
Prior to the state tournament, DeWitt said he fully expected to place at least two wrestlers. He said the practices the week before were strong and each wrestler was well-rested.
"We're a good team, and I think we should have had some kids place," DeWitt said. "We just didn't catch any breaks. That's kind of frustrating, and it's hard to end a great season on a bad note.
"We're going to come back next year with high expectations again."
Although the season left the Cardinals with a bad taste in their mouths much like last year, DeWitt said it wasn't a complete loss.
"We had a great season compared to where we were a year ago," DeWitt said. "We were runners-up in some prestigious tournaments this season. We've just got Jayhawk-basketball syndrome."