Sharing stories
Adopt-A-Grandparent program brings generations together
It's a moment Eudora Nursing Center activities director Cynthia McClelland often experiences Friday mornings during the school year.
Her residents gather at tables or in their wheelchairs near the lobby entrance silently waiting. They look to a pair of doors, expecting them to open at any moment.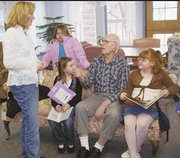 When the doors open, the environment changes.
The sound of children's voices replaces the expectant silence. Youngsters flow through the doorway and flock to the residents.
Every Friday, other than the last Friday of the month, Eudora West Elementary School third-graders learn what it's like to adopt a grandparent.
"I think it's great," resident George Mozingo said.
Depending on the week, the students might bring books, games or just themselves to talk with the older generation.
The activities and children change from week to week, but McClelland said she saw the visits having the same effect.
"They seem to have a real connection to the children," she said.
It was no different Friday as third-graders from three different classrooms huddled with the elderly residents armed with books and magazines. About 60 students gathered with reading materials in hand.
Next week, three more classes will come at the same time to spend time with the residents.
"They really read good," Mozingo said. "I hope their mathematics is as good as their reading."
The students visit as part of the district's ongoing Adopt-A-Grandparent program with the nursing center. The program has been running in Eudora since 1978.
According to information provided by the center, the program was created to help students learn about the aging process, work with people of different abilities, reduce their fear of older adults and give them the opportunity to receive unconditional support and attention from the residents.
At first the students might be nervous to meet the residents, but they eventually warm up to them, third-grade teacher Jo Doerr said.
The program also has been beneficial to the residents, McClelland said.
Adopt-A-Grandparent helps the residents receive emotional support, motivates them to be more active and gives them the opportunity to impart memories and knowledge to the youngsters.
Third-grader Connor Englebrecht said he enjoyed reading and playing games with the residents. In particular, he likes playing chess, he said.
"They're fun because they're good at it too," he said.
Taking a moment between showing magazine articles to Eva Waggoner, third-grader Maria Wellman said she liked the fact the residents did a lot of the same things she did now when they were young. In particular, she mentioned chores and homework.
Waggoner said she enjoyed her time with the students.
"They're interesting," she said.