Eudora baseball coach Dirk Kinney said his team's strength this season will be pitching depth, but minutes before he uttered that statement he explained exactly why without even trying.
Asked about the team's top returning pitcher, junior Kelson Boyer, he cut right to the two primary guys behind him, junior Brian White and senior Kent Swanson.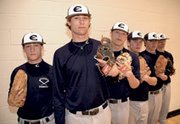 "We have guys behind (Kelson) in Brian White and Kent Swanson that are probably the best twos and threes in the state," Kinney said. "Brian's versatile. On the mound he throws a lot of strikes and he throws a great change up."
"Kent does a nice job filling up innings and attacking people on the mound. He's not going to throw it 90 miles an hour, but he's just a very well-rounded player."
Eudora must replace seven of its top players from a year ago if it has any hope of returning to the state championship game. That means new kids in the field learning not to make errors, new batters learning to handle fastballs and curves and new leaders learning to come through in tight games.
Kinney said there's no better shield to defend against a learning curve than a solid pitching staff, and there his team is blessed with both experience and quality.
"Pitching and defense will hopefully carry us a long way," he said.
Boyer leads the way. He pitched a one-run, six-hit gem in the first round of the state playoffs last year en route to claiming all-Frontier league honors last season after using his electric "stuff" to help Eudora to a one-loss regular season.
He entered the state tournament with an eye-popping .77 earned-run average and he finished with a 9-0 record.
Kinney described the tall, lanky right-hander as having a live arm and a great frame -- a player with a bit of an attitude who is aware that his future could revolve around baseball at the very least at the college level.
Boyer himself didn't hesitate to clarify.
"Baseball's what I'm basing my life around," Boyer said. "I'm somebody who's arrogant on the mound and who doesn't like the team I'm playing against. I like to do well, to help my team win and I'll do whatever it takes to do that."
Eudora's real power isn't in Boyer's arm, however. Kinney stressed it's in the collection. The Cardinals won so many games last year not by dominating the first game, but by cleaning up on both sides of doubleheaders.
White and Swanson will get first crack at filling in, and both should be qualified to handle the role.
Swanson was the team's third starter a year ago, starting what turned out to be a miserable state title game. Bishop Ward hammered the entire Cardinal staff that day and Swanson was pulled early in the game, a shock considering his mantra last year is the same as it will be this season: stay consistent.
"I'm just going to try and get ahead of batters this year, throw strikes and keep the ball down," he said. "I like my curveball, but it's mostly just trying to keep all three pitches consistent, try and work around the zone and get some success."
White, meanwhile, has emerged to replace the graduated Kyle Brouhard on the staff. The shortest of the top three starters at 5-foot-9, he has yet to disappoint.
"He's been very impressive," Kinney said. "I'm delighted with his work ethic -- just very impressive."
Again the Cardinals are deep, and it goes beyond three front-line starters.
Junior Chad Krutz will likely fill in as the fourth starter, having started a game last year and pitched on several other occasions.
"Chad can be very overpowering at times, but we've been working on his location," Kinney said.
Sophomore lefty Bryan Dudley has jumped out of the gate and could work his way into more innings, Kinney said, and Aaron Shockley figures in as a long relief candidate.
What it all amounts to is peace of mind.
"That's six guys, which is pretty deep for a 4A high school baseball team," Kinney said. "Like I said, pitching and defense will hopefully carry us a long way."