Teachers vocal about classroom amplification system
At first glance, it's just a white plaque on the wall and a gray rectangle worn around the neck.
But if one asks Nottingham Elementary School teacher Emily Sorenson or Eudora West Elementary School teacher Matt Spring, they'd tell you it could be the future of education in Eudora.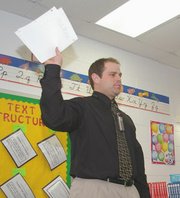 The two items are key parts of a voice amplification system manufactured by Lightspeed Inc.
The district bought two of the systems as part of a pilot program earlier this year.
The system came to the district after Spring, Sorenson and two other teachers saw a demonstration at a technology conference last fall.
So far, the results have been loud and clear.
And crisp, Sorenson said.
"It enhanced my normal voice," Sorenson said.
Research indicating the human ears mature until about age 13 provided support for a test run of the system, Sorenson said.
"I was really, really excited about it, because I heard good things about it," she said.
When district technology workers installed the system, it fit seamlessly into her teaching style, she said.
"There wasn't near as much of a distraction as there might have been," she said. "There was just a subtle difference."
Sorenson's first-grade students adapted to the new technology quickly, she said.
"It really just became a part of the class," she said. "I did really notice the children seemed more attentive, and I had to repeat myself less."
Spring found the same results.
"The amplification system is great. You don't have to repeat yourself near as much," he said.
During class, the teacher wears the microphone around the neck and speaks normally. A thin speaker mounted on the wall delivers the voice back to the students.
"It's really cool because we can hear him," third-grader Corinne Yoder-Mulkey said. "Before it was kind of hard to hear."
While using the product in her class, she found a secondary benefit, Sorenson said.
It became a motivation tool, she said. It moved her students to read out loud by giving them the opportunity to speak into the microphone, she said.
"It makes (the students) feel like the teacher," she said.
Spring said he has also used the system to help his student focus.
"The participation level goes up drastically," he said.
In his class, Spring employed the microphone to let students introduce themselves and conduct TV news-style interviews.
Third-grader Liz Kendall remembered the first time she spoke into the microphone.
"It sounded really cool," Kendall said. "It kind of echoed."
Both Spring and Sorenson classified the system as a definite success.
"I haven't heard anything negative about it so far," Sorenson said.
If a $40- to $50-million bond passes in November, part of the funds will go to pay for new technologies like the amplification system.