Eudora girls, boys soar at season's first track meet
When personal records are made by track and field athletes, they almost always scramble to break them before the season ends. For sophomore Allison Hoover, she has the whole season and the rest of her high school career to break her personal pole vault best of 9 feet, which won her first at Wellsville's Snowball Relays on Tuesday.
"It was the highest I ever got overall," Hoover said. "I'm proud because it was my first time doing it this year."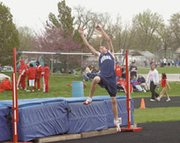 Hoover said going into the Snowball Relays, the team's first meet of the season, she was pretty nervous because it had been many months since she last competed in a meet. She broke through her jitters and was able to put the first meet behind her.
But just because she got her personal best does not mean it's all over for Hoover's records. She said she had been doing some private tutoring with coaches from Kansas University and Johnson County Community College.
"I'm going to get into the weight room and work on my upper body," Hoover said. "I want to get 10-6 by state -- I'm pretty sure I can get that. My goal then is to get 11-6 my junior year and then end at 12 or 12-6 my senior year."
But it was not just Allison Hoover who earned a personal best and gold medal for pole vaulting. Her brother, senior Austin Hoover, flew to 11-6.
In all, both the boys and girls Eudora track and field teams came back sporting some impressive -- and heavy -- hardware from Wellsville.
For the first track meet of the season, coach Phil Katzenmeier said he could not be more pleased with the team results: the girls finished in first with 132 points, which was 20 greater than the second-place finisher, Santa Fe Trail. The boys took home the second-place honors with 98 points, just skating by Wellsville's 92 points.
"We did real well," Katzenmeier said. "We won many events. We also had some very good efforts, and we looked good."
When the meet began, rain was pouring on all the athletes from Eudora, Paola, Santa Fe Trails, Osawatomie, Central Heights, Prairie View, Olpe and Wellsville. Katzenmeier said the weather did not affect how his team performed; the Cardinals soldiered through the adversity.
One group that performed exceptionally well despite the rain was the boys 4 by 1,600-meter relay, which bore first-place fruit. Runners Joey Chino, Kyle Snow, Carlos Canizales and Cody Burns finished the race in 20:47.5.
Chino, who started the race off, said his strategy was pretty simple: take it easy and evaluate the competition.
"At first I went a little slow," Chino said. "I wanted to see what everyone else did. Once I noticed there wasn't too much in my way, I took it from there."
Bringing in the anchor was Burns, who said running and winning the relay was a great way to open the season.
"It was one of the few meets that we actually run this event," Burns said. "It was kind of cool to get out there and win the first event in the first meet of the season."
In all, Katzenmeier said he was happy with the athletes' finishes at the meet. However, just because the teams finished in first and second, does not mean the whole season is going to be easygoing. He said the Snowball Relays results meant he knew what the teams were capable of. He expects personal results to steadily improve.
"It's really hard to tell how the season is going to go just by the first meet," Katzenmeier said. "I'm really pleased with how we did today. It's a great building block to start off from."