Doling out for Darfur
Geography class collects money for war-ravaged African region
To help the cause, Eudora High School sophomore Madison Mater decided it was best to be direct.
"One dollar can feed a person from Darfur for a day," she said to a group of students at lunch Thursday with a plastic pitcher in hand. A paper sign on the pitcher read: "Pitch in for Darfur."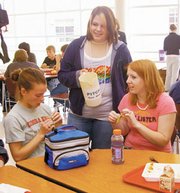 That's exactly what Mater and EHS social studies teacher Robyn Kelso's geography students did last week.
Starting April 23 and ending Friday, students manned a table in the high school commons during lunch periods to collect money and distribute green ribbons for the Dollars for Darfur program in conjunction with international Darfur Advocacy and Awareness Week.
The program was originally created by a group of high school students in Chicago who used social networking sites to spread word of the cause throughout the country.
The group behind Dollars for Darfur aims to raise $200,000, recruit as many high schools as possible to participate and increase aware of the violence in the western region of Sudan, Africa.
When Kelso learned about the program, she recognized an opportunity to supplement her lesson on Africa and in particular the strife in Darfur.
"I try to have a current events element in all my classes," Kelso said. "I think geography is about knowing what's in your backyard and what's across the world."
After reflecting on the Holocaust studies in conjunction with European geography, Kelso thought a study of Africa should include the continent's historical struggles with ethnic cleansing.
At the beginning of her lesson on Africa, Kelso had her students conduct a poll at the school to find out what the student body knew about the violence in Darfur.
"I found out overwhelmingly most students had no idea what was going on," Kelso said.
The results of the poll combined with Kelso's discovery of the fund-raiser gelled into the weeklong program.
In addition to distributing green ribbons signifying the struggle in Darfur and collecting money, Kelso's classes have posted news articles about the conflict in the hallways, Kelso said.
She crafted the high school's drive after reading what other high schools had done, Kelso said.
"The kid's just went with it," Kelso said.
Freshman Lindsey Cook also helped collect the money during lunch.
As the week went on, she noticed more people catching on to what her group was trying to accomplish.
"A lot of people are kind of reserved about giving money at first, but once you get them interested they give pretty freely," Cook said.
It's sometimes difficult to talk to people about the ethnic cleansing in the region, Cook said.
"Now that I'm giving back to the cause, it's a good motivation to keep going," Cook said.
Mater had similar feelings.
She began the week by reading people information from a slip of paper, but by the end she focused on the power of $1.
"If everyone just gave a dollar, that's a school of 400 feeding 400 people," Mater said.
The Dollars for Darfur program encourages each school to donate $50, however Eudora High School raised a total of $405 for the charity.