Sliding around
Tuesday win helps struggling Cardinals bounce back from sweep
Attitude is everything, Eudora baseball coach Justin Mayer said. And the 9-1 victory to Osawatomie Tuesday proved it.
"I was extremely happy," said Mayer, who filled in for head coach Dirk Kinney who was attending a funeral out of state. "We've been talking recently about getting good body language and playing the game the right way. When we are on the same page like we were tonight, then we can show how strong a team we can actually be. Hopefully, our attitude will carry over to the next five or six games we have."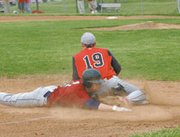 After losing to Central Heights 11-7 and 11-6 last week in a doubleheader, Mayer said the team knew it had to make some attitude adjustments. Although the team had a very long way to go, Mayer said the Osawatomie game, which became a single game after rain and lightning caused the second game to be called off, was a good start.
In addition to the emergence of a strong team attitude, pitching too was right on, Mayer said. Brian White threw the full seven innings and racked up seven strikeouts.
It was the highlight of the game, Mayer said.
"Brian was awesome," he said. "He kept a great tempo, which was nice for us. He only gave three or four scattered shots and didn't walk anybody. He never got complacent, and we didn't have any errors as a team. That was definitely nice."
Eudora was also thrilled to hit the ball effectively, scoring nine runs. After the team started slow, Morgan Abel jump-started things with a two-run home run.
Chad Krutz joined in with two RBIs and one run scored of his own, as did Aaron Shockley, who went three-for-three at the plate and scored two runs.
Mayer said Osawatomie presented several challenges. The Trojans were pretty young and energetic, but he was pleased with how the team played.
"They have been playing teams pretty closely," Mayer said. "We can't overlook them, as everyone in the league is at an even keel. We knew they'd be a challenge. They're not a bad team. They have some strong arms.
"It was good for us to pull out a big win like we did."
But the challenge posed by Osawatomie will be nothing compared to the challenge the next week will offer the Cardinals. Because of games having to be made-up, Eudora will be playing five games this week. The Cardinals are scheduled to play at 4:30 p.m. Thursday at home against Baldwin for a single game, then a doubleheader at 4:30 Friday at home against Ottawa and another doubleheader Tuesday in De Soto. The second game against Osawatomie was rescheduled for 10 a.m. Saturday in Osawatomie.
Mayer said he had concerns about it, but was confident the team would soldier through its exhaustion.
"It will be an interesting week for us," Mayer said. "We've played six games a week in past seasons. It's going to be at least a five-game week for us. We'll run thin on our arms, but we're just going to hope we get some quality innings out of each game."