Humor, individual student focus shared by district's "Teachers of the Year"
When the names were called out Thursday, attendees at the Eudora USD 491 Board of Education meeting learned Susan Schiffelbein and Matt Bova accomplished something special.
Each was singled out as the district's nominees for the 2008 Kansas Teacher of Year award.
Bova earned the nod for the secondary grade levels. He teaches English and photojournalism at Eudora High School.
Schiffelbein earned the honor for the primary grades. She teaches writing to students at Eudora West Elementary School.
Regional award winners of the teacher of the year contest will be announced in September.
Bova and Schiffelbein teach different students but their philosophies are similar.
Complex simplicities
It's all about relationships, Bova said.
"As difficult as it is sometimes, you really have to pay attention to the kid right in front of you, right now, and work on that relationship," Bova said.
Each time it's an opportunity, he said.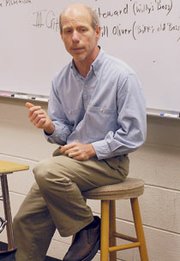 "Focusing on the student in front of you reminds you every encounter has the possibility for something new to happen," Bova said.
Bova has spent 19 years of his 22-year career in the district cultivating the opportunity for something new to happen. He's also given time to the Eudora National Education Association and helps the Kansas Writing Assessment Committee set scores for its test.
"I like to pursue complexity," Bova said.
While in class, he leads students to examine simple assumptions and talks them through to discover inner subtleties, he said.
He directed his junior English class to write a one-act play depicting exchanges
between playwrights Arthur Miller ("The Crucible") and Lorraine Hansberry ("A Raisin in the Sun").
In the assignment, he asked students to imagine what sort of conversations the elderly white Miller might have had if he met with Hansberry, an African-American woman in her 30s.
He and his class shared lines, talked about where the duo might meet and how they might have gotten along together.
"We had a lot of fun," Bova said.
That interaction is typical for his class.
He pulls the student into discussions during class and often has them perform live readings, junior Amanda Graff said.
"It makes class more interesting and easier to pay attention to," Graff said.
Maintaining a sense of humor is a key to his teaching philosophy, he said.
"My style, I think, is fairly relaxed," Bova said. "I think I encourage the free exchange of ideas."
The style carries over to his photo class.
"He gives us great ideas," junior Kelsie Riser said.
Bova often gives his students individual attention, but also freedom to do what they want, Riser said.
His ability to teach photojournalism supplements his abilities as an English teacher, he said.
When he arrived to the Eudora district, he had only shot about one roll of film in his life, he said.
It gave him the opportunity to teach a subject he had to work to learn, as opposed to English, which had always come more naturally, he said.
His most enjoyable moments as a teacher come in the English classroom as his students pore over an assignment that drives them to be creative, he said.
He strives to think of new ideas. This year, he had his students write a piece in the style of National Public Radio's "This I Believe."
"I'm probably as happy as I can be when I'm hearing a whole classroom of kids clacking on their keyboards," Bova said.
Inspiration in class
If it means getting a point across to her students at West Elementary, Schiffelbein isn't against letting her voice change to suit a character in a children's novel.
She also isn't against using her son as a moving object lesson from time to time either.
That's because she wants her students to truly enjoy the writing process, she said.
"It's not just to teach the subject matter, but to help the children love to learn," Schiffelbein said.
Schiffelbein has spent the last three years in the district teaching students at West how to write through example. She spreads the district's teaching methods across the state during summer workshops, along with reading teacher Denise Kendall.
It's important to give students forms as they learn to write, she said.
Her classroom is lined with posters filled with colorful letters showing students different maps on how to write everything from a short story to an expository essay.
"I do it as well, in front of them, before they get started," she said.
She created a sample essay on the solar system Monday for her fourth-hour class.
At the end of the hour, her students huddled over note pads or computers writing a five-paragraph essay in their choice of several styles.
She stayed in a corner near comfortable-looking chairs to guide them if they needed help.
"They have a lot of creative writing opportunities as well," Schiffelbein said.
During the course of the year, she led her third-grade students in a haiku unit. She also offered her fifth-grade students the opportunity to write about their own personal experiences.
"I'm just a facilitator to help inspire them," Schiffelbein said.
About five minutes after her class period ended, three of her students, fifth-graders Justin Leonard, Scott Lounsbury and Shelby Younkin, returned to her classroom carrying white plastic lunch trays.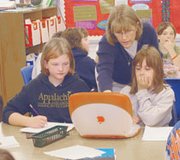 The students had the opportunity to spend points earned in their homeroom class to designate a "lunch buddy." While most students use their points to choose their friends as lunch buddies, the three chose to eat lunch with Schiffelbein.
"She's open a lot," Shelby said.
When asked to describe her teaching style, the students each used words like "fun" and "enthusiastic."
Justin remembered a particular lesson last year. Schiffelbein's son hid in a closet before bursting out when she wasn't looking to take a vase she placed in front of the class.
It was an observation exercise, Schiffelbein said. She wanted her students to notice details about the incident and her son, she said.
Schiffelbein's proudest moments come when she sees students finish an assignment that daunts them, she said.
"Every day is rewarding," she said.