For Eudora's top two pole vaulters, flying high and scoring big at track meets isn't just a field event. It's a family occasion. Senior Austin Hoover and his sister, sophomore Allison, have come up big for the Cardinals, and they say it wouldn't be possible without the support of one another, or the constant cheering their parents provide meet in and meet out.
"They're very supportive," Allison said about her parents and brother. "Sometimes they're tough on me because they really want me to do well. They keep me going."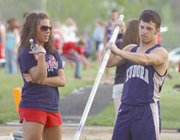 The key isn't that Dan and Wendy show up for every meet clad in red and ready to cheer themselves hoarse, however. They redefined "support" by building a pole vault pit in their backyard so the two athletes could continue to train year round.
The results of the familial support: Both Hoovers have managed to place at every meet this season. Most recently they shined at the highly competitive 20-team Redbud Classic in Wellsville. Allison took first place, vaulting nine feet, and Austin took second with his 11 foot, six inch vault.
"Meets are very family-oriented," Austin said. "My parents support us both, and Allison and I give each other advice. It's also fun because we challenge each other -- we like to see who can do better."
Track and field coach Phil Katzenmeier said having the two Hoover siblings on the team was very enjoyable, as they are always working hard at improving their height, distance and jumping style.
"They're unique situations because they compete in the same event, and that is the only event they compete in," Katzenmeier said. "They're kind of like specialists. It's hard to vault well and do well in other events. They're able to focus just on that and really do well."
Yet they aren't letting their successes and their coach's praises affect their attitudes. Both said they wanted to improve their jumps by several more feet before the season concluded.
"My goal is to jump 13-6 by the end of the season," Austin said. "I expect to get more than that, though. I always expect to get better than the goals I set."
In order to reach his goal, Austin recently purchased a new pole to help increase his height and distance. He said so far, the new pole had been working out well, but it took some time to acclimate to it.
Allison said she saw herself jumping at 10-6 by the end of the season and 13-0 by the time she graduated in 2009.
"I plan on going to lots of off season camps and to work out a lot over the summer to reach my goal," Allison said. "Pretty much, that's what I'll be doing this summer."
Both have come a long way since they began vaulting. Austin said he always wanted to participate in track events, but wasn't as fast as he needed to be to successfully compete. That changed when he discovered the pole vault. He said it was a good fit for him, as he was able to rely on his strength rather than his speed in order to perform well.
Allison's reason for starting the event was a little more straight-forward.
"I started because my brother jumped," Allison said. "When I was in elementary school, I saw him do it, and I thought that it looked pretty cool. I wanted to do what he was doing, so I did."
Austin is planning to attend college at Kansas Wesleyan University in Salina, where he has a scholarship to participate in his other passion, football. But he isn't putting down the pole for very long. He said he planned walking on the track and field team his sophomore year.
For now though, the two Hoovers said they treasure being able to compete in an event they both love. But what made competing better, Allison said, was that she had Austin there to cheer her on.
"It helps me a lot because he's somebody I know has a lot of intelligence in pole vaulting," Allison said. "It affects me more when he cheers me on. He's probably one of my biggest fans."
Austin said sometimes he told Allison things she didn't want to hear, but he always had her best interest at heart.
"If she's complaining too much I'll tell her to stop complaining," Austin said. "If her step is off, I'll help her with what she needs by showing her what's wrong.
"It's really good that we have each other there because we don't have many vaulters on the team. It's something we share together."