Oh, yes they did!
Eudora earns first state berth with thrilling run
The celebration was loud and wild, the suddenly state-bound Eudora Cardinal softball team converging at the center of the diamond to share hugs and high fives.
It was loud and wild alright, but somehow perhaps less of a celebration than one might expect after listening to constant and uplifting chatters that rang from the Eudora dugout all throughout the team's 8-4 regional championship victory against Kansas City-Piper. Less of a celebration than one might expect after glancing at a bracket that clearly labeled Eudora the fourth-best team in the eight-team field, and less than one might expect considering this marked the program's first-ever trip to state.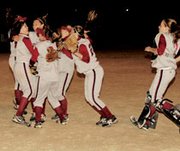 "It hasn't sunk in yet," Eudora coach Cara Kimberlin said. "We've been inconsistent all year, even from game to game in doubleheaders. But to pick a time to be so positively consistent, this was a pretty good one. ...
"It just hasn't sunk in yet."
No, it hadn't, and it already had, at the same time. Either way, the Cardinals were breaking new ground and even they seemed almost stunned to do it.
In one sense, it wasn't much of a surprise. Eudora scored six runs in the first inning of Tuesday's championship and Piper never climbed to within real striking distance. Heck, the Cardinals had enough runs to win the game -- five -- before the Pirates even recorded an out in the first inning.
The dugout started adding in a countdown of the outs remaining with three innings to go.
At the same time, even afterward it seemed Eudora wasn't really sure what had just happened.
Senior pitcher Brynn Hamilton, Eudora's ace who guided the team through all 21 innings of the three-game tournament, said she hadn't expected all of the team's pieces to fall together at exactly the right time.
Kimberlin quietly admitted that she too was surprised.
Hamilton said she was worried -- confident, but worried -- from her first pitch of the first game of the tournament, a contest Eudora took from Tonganoxie, 5-2.
Eudora won that game, then pulled off a major upset by handing the top seed, Spring Hill, only its second loss of the season, 6-1.
Finally came the game against Piper and the monumental first inning. Hamilton never wavered -- not even when a Pirate ball sailed over the center field fence to make it 8-4 -- and soon there they were, a breathless and nearly speechless group, the awe-struck Cardinals dancing and hugging in the center of Basehor's Field of Dreams.
Indeed.
"I'm just really happy for all of us," Hamilton said. "I'm not going to lie, I didn't see (this potential). Even at the beginning of this week I thought the first game was going to be really, really tough for us. And it was, but we pulled through, and I'm so happy with the way this turned out."
Hamilton's pitching easily ensured the first-inning would stand up, and a stout Eudora defense underlined the point.
"We really pulled it together when we needed to," she said. "What was different? The whole team is like one big best friend. When someone makes an error, we're all there to pick that person back up. No one drops her head.
"This is really unexpected and words just can't express what's going through my head."
But it all comes back to that first inning. Beth Folks and Bailey Scott scored on a Caitlyn Riser double for a 2-0 lead, and Mackenzie Salzman added to it moments later as she slid across the plate after a passed ball.
Evan Folks drew a walk and along with Salzman scored on a Madison Oller double.
Eudora chased Piper's first pitcher after five hitters and zero outs in the first -- yes, that translates to an ERA of infinity -- and kept the pressure on, Oller's blast coming after she left.
Two more runs scored as the Cards took advantage of three Pirate errors in the second inning, Hamilton knocking home the second with a bloop single behind first base.
And that was enough. Eudora kept its own errors in check. Salzman made two excellent catches in center field. Hamilton found herself in trouble only twice -- Piper scored two in the second and two on the sixth-inning home run.
As the end drew closer and closer, the already intense chatter in the dugout picked up pace -- "six outs to go ... five outs ... three outs ... two outs," until every Cardinal left on the bench lined up by the gate and every player in the field narrowed the eyes. The final batter popped high behind second base for an easy out and the race to the mound was on.
"I am a bit surprised. As a coach, you want to come in and say 'Yeah, I knew we could do it,'" Kimberlin said. "And I did know we could, but with the consistency we'd played this season, and with the lack of focus we played with at times, I didn't know if we had the focus to do it. We played focused for two days."
The Class 4A state softball tournament will be May 25-26 in Mulvane, about 10 miles south of Wichita. Check next week's edition of The Eudora News for a complete breakdown of the tournament.