Seniors discover career goals from high school experiences
With tests wrapping up, the high school careers of Eudora High School Student Council President Christina Pyle and Vice President Jessica Stewart are winding down.
In the fall, both will enroll at Kansas University to continue their educations.
Before donning the cap and gown and officially leaving school, both Pyle and Stewart took time to remember what their career in the school system meant to them and talk about where they might be next.
Christina Pyle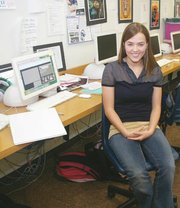 The business of high school is nearly finished for Pyle.
She plans to study business management in college where after four years she said she hopes to bring her skills into the global market place.
First, everything else is sinking in.
"It's finally hit me. We're graduating, and it's really sad," Pyle said.
"I'm still ready for graduation. I'm ready for the next step in my life."
Pyle said several threads running through her time in high school helped her develop an interest in the business world, one of which was a trip she took last year to Ecuador with the Eudora High School International Club.
"I enjoyed seeing a different culture," Pyle said. "It really makes you enjoy what you have here."
The experience cemented the fact she also wants to travel, Pyle said.
Her study in business would aid that, as well as a possible double major in Spanish, she said.
She said she planned to study abroad while in school.
"It humbles you," Pyle said.
She said her time in the high school's journalism department was also formative. She's the editor of the 2006-2007 yearbook.
The responsibility of constantly meeting deadlines helped instill academic discipline, Pyle said. It also helped her realize the value of her product.
"First of all, I get to see what the yearbook is going to look like," Pyle said. "You just have to make sure it creates good memories for everyone."
While in college, Pyle has plans to get involved in student government, she said.
"I really enjoyed (student council), Pyle said.
Although prepared to start her next step, Pyle said she would miss her experiences in the district.
"Everyone is really good about finding your own way here," Pyle said.
Jessica Stewart
Stewart also found a possible career path at Eudora High School.
Her experience took a detour through her athletic career ---- which included a state volleyball championship in the fall of her senior year.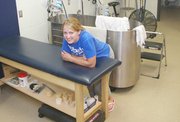 The realization came as she was being treated for an injury, she said.
"I'm just sitting there one day, and it felt right," Stewart said.
She plans on studying exercise science. The major will allow her to maintain a strong tie with athletics.
"I've spent a lot of time in the training room," she said.
Originally, she said she thought she might like to become an athletic trainer.
"But I don't like blood," she said.
Her athletic achievements balanced her academic aspirations, she said.
"It just kind of interests me how the body works," Stewart said.
To stay in shape, she plans on joining the KU rowing team.
When looking back at her time in school, everything seems to blend together, she said.
"Honestly, high school is kind of a blur," she said. "It seems like it's going to take forever, but it has gone by really fast."
Stewart filled her time by working on the yearbook staff and student council.
This year, she's also enrolled in classes at Johnson County Community College, Stewart said.
A definite highlight of her time in high school came at a trip she took with the Future Business Leaders of America to a convention in Indianapolis, she said.
"You got to interact with lots of different people," she said.
Her proudest achievement in high school came in the academic arena, she said.
"I've never had a B."
She said she was still waiting on results from her college courses.