Eudora West Elementary School fifth-graders meet their mask
Eudora West Elementary School fifth-grader Sabastian Lee received his first practical lesson in nose rings May 16.
The lesson had nothing to do with youthful rebellion and everything to do with a brown paper mache African mask he called "Zimbabwe."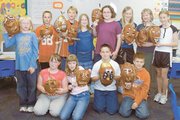 "It kind of matches his personality," Lee said of the name.
The brass-colored ring represented the unity of the entire tribe, Lee said.
Lee and 11 other students in the fifth-grade art club created masks based on lessons on early African cultures led by teacher Angie Kennedy.
In the lessons, students learned why ancient Africans wore the masks and why they etched certain designs on to them.
Each student was given the task to design his or her own mask. The group met once a week after school to work on the project.
Their work culminated May 19 in a final flurry of decoration.
During the meeting, students put the final touches on their masks by adding feathers and beads.
Other students worked on computers to write a back-story for their creation.
It was surprising how well the fifth-graders understood the ideas behind the mask, Kennedy said.
"They all just did a great job of grasping the concepts," Kennedy said.
Kennedy normally gives this lesson to older students to prepare them for their later education, she said.
When preparing for the May art club she decided to give the fifth-graders a try.
The teachings took hold when Lee created his piece.
"It looks like it has its own little personality," Lee said.
Each mark on "Zimbabwe," represents something about him, Lee said as he was attaching a bead.
The mask itself is painted dark brown. Lee included stripes, dots and feathers, in addition to the nose ring.
"It gives me a visual of what they look like," Lee said.
While Lee added the last pieces to his mask, fifth-grader Kennedy O'Dell worked on the history behind hers.
Meet Jamboke Aha.
His name is based on the Kenyan word for "hello," O'Dell said.
She first pointed to lines of dots crossing the mask horizontally and vertically.
"Each of these represent the gods recognized by his tribe," O'Dell said.
When she imagines what Jamboke might have been like, she pictures him like a medieval town crier in England, she said.
Except for the fact he'd be in Africa and welcoming people with a mask instead of a bell.
She moved on to a different part of her mask.
"Any of the black lines represent war," she said.
O'Dell also pointed to designs, which indicated all the people in the tribe.
She said she already has plans for the mask.
"I really want to hang it up in my room," she said.