'

It's our turn': softballers ready for state
They watched one year ago as the baseball team fought its way to the state championship game.
They paid attention as the cross country team again and again found success at state in the fall, then even again in the spring when many of the same kids did much the same thing on the track.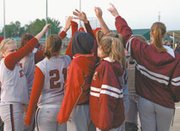 They bundled up to cheer on the football team's run to the state quarterfinals, and packed up to cheer the volleyball team to last fall's state championship.
The Eudora girls softball team, along with ever-present coach Cara Kimberlin, has been there for every step of what has been a remarkable two-year run for Eudora High School teams.
Now, at last, it's their turn.
"I've known for a long time that I wanted to go to state," senior second baseman Caitlyn Riser said. "We've had upsets in the past years, but now with all the experiences we've had this year and all the good things that have happened to everyone, we're excited and ready.
"Baseball had their turn last year, now it's time for softball to do something good."
Eudora will open play in the Class 4A state softball tournament at 7 p.m. Friday and the No. 6 seed Cardinals haven't shared a single common opponent with the No. 3 seed Girard Trojans.
Kimberlin said scouting the eight-team field hasn't been easy, but she hasn't worried about it very much either.
Eudora is familiar only with Frontier League-foe Paola, the tournament's fourth seed, but even that connection is dated. The Panthers beat the Cardinals 3-2 in the first game of the season. Even worse, the only way that experience will come into play is if the teams meet in the last game of the season, the state championship.
After that, Kimberlin said she's relied on bits of scouting from friends in the coaching business who ran across Girard.
It makes for an incomplete picture, she said, but one that continues to keep her team's focus right where she wants it: on duplicating the steady and confident style of play that helped the Cardinals win last week's regional tournament.
"They're focused and they're pretty relaxed," Kimberlin said. "It's just like how they were at regionals.
"If we show up and play like we did at regionals, we have a good shot at winning it."
A number of things bode well for the Cardinals as they head into the tournament.
It hasn't gone unnoticed that last year's six seed, Augusta, went on to beat Thomas Moore Prep from Hays to win the tournament.
As much love as the girls have felt since qualifying for state, it's been ramped up even more by the football coaches and players who'd like nothing more than to see the softball team avenge their season-ending state quarterfinal loss to Girard.
But most importantly, Kimberlin said, she hasn't seen her girls get overly excited or overly nervous when contemplating the upcoming games. Rather, it's been calm and cool that's defined recent practices.
"They aren't taking the approach that since it's our first time we've been there, that's good enough," Kimberlin said. "Even when I'm just explaining the travel plans, if I make a comment about not winning Friday I get corrected.
"If we can do the three things right that we did last week -- pitch well, hit well and field well -- we have a chance to win it all."