City sends electrical meters to Greensburg
Twice in his life, city water plant foreman Jon Showalter has seen destruction caused by a major disaster.
As a child, Showalter said he remembers seeing the aftermath after a tornado struck Topeka in 1966.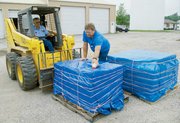 Years later, in 1979, he helped clean up after a train derailed in Lawrence.
Now, with a truck and 400 electrical meters donated by the city of Eudora, he's going into chaos for a third time.
He'll be gone a week traveling to the tornado-wrecked town of Greensburg joined by electrical lineman Ken Latshaw.
"People take a lot of life for granted before something like this happens," Showalter said. "I just want to go help. It makes me feel better."
The Eudora City Council agreed to donate the meters at the May 14 meeting.
At the meeting, the council agreed to send what materials and staffing Greensburg needs to rebuild after a May 4 tornado leveled 95 percent of the town.
Because Greensburg had immediate need of the meters, the city had the equipment loaded on to a truck by Friday.
Showalter and Latshaw left Tuesday and will return next week.
The meters were in use before the city decided to upgrade the system.
Up until the Greensburg storm, the city kept the meters in storage.
"I'm glad they get to use them," city electrical superintendent Eldon Brown said.
Eventually the city would have gotten rid of the meters if no other use for them was found, Brown said.
He estimated they would have been worth about $35 each when new.
Earlier in the week, Showalter had to complete a briefing and receive credentials in order to be let in to the rebuilding site, he said.
Apart from the official preparation, Showalter said he hadn't spent a lot of time getting ready, except for packing clothes for the trip.
One of the reasons the assignment appealed to him was because it fell on the Memorial Day weekend.
Showalter said he realized most of his co-workers were busy during the long weekend.
"I had no plans," Showalter said.
The city will pay for Showalter's normal hours and accommodations. Any overtime and equipment will be paid by the Federal Emergency Management Agency.
With his past experience working in disaster areas, Showalter said he has an idea of what to expect.
"It's going to be pretty humbling for me," Showalter said.