Final farewell
Longtime staff members say final farewell to
USD

491, students
Officials and students at Eudora USD 491 said goodbye to two longtime staff members last week.
Both librarian Christine Stein and seventh-grade social studies teacher Kathy Cox finished their careers with the district at the end of the 2006-2007 school year.
Stein worked as a librarian at both Eudora West Elementary School and Nottingham Elementary School.
Cox taught at Eudora Middle School.
Maintaining connections
After 40 total years teaching and 15 years within the Eudora school district dispensing advice to her students, Cox received some advice of her own.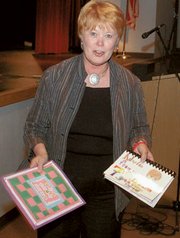 A group of her former students presented her with a handmade book giving her ideas on how to handle retirement.
"It was really amazing. I have all kinds of advice, from practical like 'don't stand up in a canoe' to philosophical like 'take time to smell the roses,'" Cox said. "It's quite a variety. It's wonderful."
Cox taught mainly social studies courses throughout her career, she said.
She's also taught English classes.
She began and ended her teaching career as a seventh-grade teacher and especially enjoyed teaching seventh-graders, she said.
"I love the seventh grade because they have such a curiosity and excitement about everything," Cox said.
She tried to keep her classes full of variety, Cox said.
This year, she had her students find tie-ins into her lessons from outside media.
One class collected more than 60, she said.
"I like hands-on activities and things that take the students beyond the textbook," Cox said.
Cox has said some of her proudest moments in the classroom came from helping prospective teachers as well as students.
In the past, she guided student teachers from Kansas University.
She'd received letters from the student teachers telling her how much they learned from her style, she said.
"I have a lot of letters like this from students," Cox said. "It has just been one of the best things I did in my career."
Cox said she plans on enjoying the summer and possibly traveling.
"When the fall comes then I might very much miss the classroom I'm sure, " Cox said.
Power of books
Stein didn't start out her educational career in the library.
She taught for two years as a third-grade teacher in Neodesha.
Eventually, she felt called to make more use of her minor in library science, she said.
After 32 more years in education and 10 years within the Eudora school district, the choice to move into the library was worth it, she said.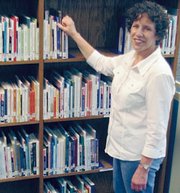 "I get to know all the students in a little bit different setting than in the classroom," Stein said.
Her time as a librarian let her see different sides of the students, she said.
Her best moments came when she knew she had nurtured a student's desire to read, Stein said. It's especially true when former students tell her they plan on becoming writers, she said.
"They tell me I picked the best books for them," Stein said.
Stein said she also found joy when she helped students overcome challenges.
"You reach that student who thought they didn't like to read and discover that there are some good books out there."
Stein also made connections with other faculty during her career in Eudora, she said.
"I've made a lot of good friends here," Stein said.
In the future, Stein said she still plans to work in a school library in some capacity, she said.