Chocolate business mixes love into sweet confections
When you buy an Amore Chocolate Pizza, there is a greeting card from creator Annette Cook inside the packaging. In that greeting, some form of the word "love" is used six times.
And it's no mistake, because their creators say love is one of the most important ingredients that go into confectionary creations at Amore Chocolate Pizza Company, the business started a little over a year ago by Annette and Chris Cook of Baldwin.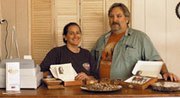 Annette had been making chocolate pizzas for five years prior as "break-a-leg" gifts for fellow cast members in plays in which she acted or students in plays she directed. She began to think of the treats as a business because she was always working when school was out of session and was unable to go on vacations with Chris and their four children.
"We figured out that if she made $400 a month, that would be enough," Chris said. "I kind of forgot that I said it and then one day she came to me and said 'what if I make a business out of the chocolate pizza?'
"My typical husband response was 'As long as there's no real estate involved and we don't have to pay rent.' So we did an online business got a domain name"
What started out as a plan to simply make $400 a month has grown into something bigger han the Cooks had imagined. In December 2006, an area newspaper did a story on Amore and within three weeks they did $8,000 of business.
"Originally, we were just going to be an online gift service, but in the hubbub of last Christmas, we did corporate sales and we did wholesale to retailers," Chris said. "We realized that there was a little bit more to it than what we were thinking before, so we regrouped and had packaging designed."
Chocolate pizzas do not include any dough, though some have Graham Cracker crust. They are topped with everything from toffee and pecans to shredded coconut and marshmallows.
"We're not chocolate masters, though Annette would like to get more training," Chris said. "But she is innately talented in flavor combinations."
The desserts are rich, but not to the point that you couldn't see yourself hastily consuming one like a dog eating food off of the table while its master is out of the room.
"I had a lady say to me the other day 'I only eat white chocolate,' and I said, 'Well, try mine,' and then she said 'now I only eat white chocolate and this,'" Annette said
But the array of treats are not limited to the pizzas, as Amore also has pretzels rods dipped in chocolate and then covered in Heath Bars, honey roasted peanuts, sprinkles, or pecans.
They also sell "dirty spoons," which are spoons dipped in chocolate and combined with mint, butterscotch, raspberry or other flavors. The spoons can then be dipped into warm drinks, such as coffee.
The business has grown even more now that they have moved into their new digs at 114 E. 20th St., which will allow the business to progress even further.
"We were working in a commercial kitchen, and it was overbooked and we couldn't get everything done within two or three days anymore," Annette said. "I told Chris '"If we want this to go, we've got to get our own space.'"
Another boost to Amore is the time that the Cooks spend traveling to various conventions, called marts, from Chicago to San Diego selling their products to retailers.
"We've been told by people in the business that there's a certain number of dollars that you can count on if you have a high end store handling your product," Chris said. "So what we're looking at is not how many sales, but how many gift stores we're in."
The Internet also has been an invaluable tool for Amore, providing opportunities throughout not just the U.S., but also the world.
"We just accidentally sold some (products) in Scotland, and we've had a request for retail in Dubai," Chris said.
Though the Cooks put in long hours, with Annette working from about 8 a.m. to 8 p.m. and Chris helping in the evenings, they couldn't be happier with the success they are seeing.
"It just grew and I didn't feel like I could say 'No, we just want to stay small,"' Annette said. "And Chris really enjoys going to the marts; he's a natural salesman.
"I'm creative -- I'm a costumer, I've been an actress -- and this just seemed to be another step in a creative process."
For more information on Amore, visit their web site at www.amorechocolatepizza.com or call 785-424-3534.