Though exercise classes have been going since last week, the indoor portion of the $3.8 million Eudora Community Center finally opened its doors Tuesday.
Some Eudora residents who found their way to the Wellness Center had a positive first impression of the facilities.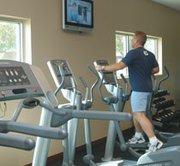 "I like what I see so far," City Councilman Bill Whitten said, as he ran on one of the three elliptical machines.
Whitten, who is a fireman and usually runs outside said that he especially looked forward to using the fitness center during the cold months.
"It's nice with winter coming to have an indoor facility," Whitten said.
Longtime Eudora residents Charlie and Mary Anne Watts and their daughter, Melissa Pittman, worked out as a family.
"I think it's great," Charlie Watts said. "I've been working out in Lawrence and I've been looking forward to it (the community center) opening."
Other patrons also focused on the convenience of the facilities.
"I work in Topeka and I'm here one day a week, so the punch card is really great," National Guardsman James Briery said.
The only part of the center that still is not ready is the gymnasium, which will be ready the week of Thanksgiving, just in time for youth basketball teams to begin practicing in December.
Charlie Watts said that the Wellness Center was more than enough.
"I recommend it to anyone who wants to get a little toned up," he said.
Grand opening and ribbon-cutting festivities, which include Santa and drawings for prizes, will take place at 4 p.m. Dec. 2.
Hours for the new recreation center are 5:30 a.m. to 9 p.m. Monday through Thursday, 5:30 a.m. to 7 p.m. Friday, 8 a.m. to noon Saturday. However, after the first of year, more hours will be dedicated to Saturday and the center will be open from 1 p.m. to 5 p.m. Sundays.
Visit www.eudorapr.org or call 542-1725 for more information.
More like this story