Family seeks donations for troops
After hearing about the everyday items that troops in Iraq are going without, Eudora residents Lee and Danny Trimble decided to do more than simply talk about the problem.
The couple's response was Project Bucca, wherein they are asking for donations of items such as toothpaste, soap, deodorant, cotton swabs and baby wipes to be placed in barrels that are at four locations throughout Eudora.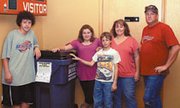 They first heard about what troops are enduring from the wife of Sgt. 1st Class Tim Buchhorn, who is stationed at Camp Bucca on his second tour of duty in Iraq and will not be home for another year. Buchhorn's sons are friends with the Trimbles' sons.
"We wanted to pay it forward," Lee Trimble said. "We found out that their stores (the troops' stores which are called Post Exchanges) over there are out of several things like Q-Tips and deodorant and hand sanitizers and those kinds of things. So, we thought this would be a great way to help troops by having people donate stuff so that we can send items over there."
The Trimbles had been sending over about two packages per week on their own but they wanted to see the community get involved.
"We'll take whatever anyone can give, and we're looking for local businesses who might be willing to help with the shipping costs," Lee Trimble said. "We're hoping we can send four to five packages a week. The more we can get over there, the faster we can get over there, the better it's going to be."
It's not just Danny and Lee that are hard at work, as their three kids also have helped by passing out flyers throughout the town.
"We all decided as a family that this is what we wanted to do," Lee Trimble said.
It's not just the essentials that they would like to send, but also touches of home, such as candy and baked goods.
"We're trying to do fun stuff too," Lee Trimble said. "They love to have DVDs. We've been sending them DVDs and what they do is they take that one DVD and just pass it around throughout all of the troops."
Danny Trimble said that Project Bucca was just a function of his family, and hopefully Eudora, providing a service to troops who already have given of themselves.
"We don't want them to get to the point where they don't have what they need," he said. "They're giving us what we need."
The Trimbles will run Project Bucca until Jan. 1, 2008, and then find out if more supplies still are needed. Barrels are set up at Simple Simon's Pizza, 310 E. 15th St; the Eudora Community and Aquatic Center, 1638 Elm St.; Coffee Talk, 724 Main St.; and Eudora City Hall, 4 E. 7th Street. For more information, e-mail Lee Trimble at lee@tbarracing.com or call
913-207-1108.