Turf warriors
Cardinals race well at home invitational
Racers in the Eudora Invitational get a boost no other race provides.
Lined up, tense and waiting for the start, its all an athlete -- or a fan, for that matter -- can do not to jump five feet in the air when the race's starting cannon -- yes, cannon -- explodes.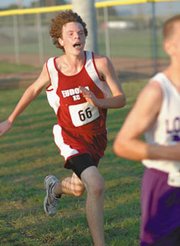 Thursday, as the Cardinals played host at their annual home meet, they took advantage of the ear-rattling start and exploded on the course. The girls won the nine-team, 62-runner four-kilometer race with 42 points.
Combined with a strong race from a number of the boys competitors, the home cooking has the Cardinals ready for their most important stretch of the season, the 17-day span that includes the Frontier League championship, regionals, and if they qualify, state.
"We're running well and packing together well, so our team is finishing high," senior Emily Ballock said. "We'll have a really strong showing and hopefully go to sate. Our new and younger girls are running strong."
Eudora didn't have much trouble carving up the field at its home tourney. Started by the cannon -- don't think "Blast those Confederates!" but "Oh!! Fireworks!!" -- the girls dominated the race.
Eudora easily beat Perry-LeCompton, which finished with 96 points, Anderson County at 104 and Gardner Edgerton with 107.
Emily Ballock led the team, finishing fourth in seventeen minutes, 13 seconds. Liz Hoese was sixth in 17:44, Kaya Reimann eighth in 18:14 and Lauren Colman ninth in 18:21.
Cathrine Weyde was 15th in 18:44 and Bre Miller 23rd at 19:32.
"I ran one of my slowest times of the year and our course is rough and bumpy, but overall I still thought I had a pretty strong showing," Ballock said. "I feel we're all ready to run our best races.
The boys team finished sixth in an 11-team field. Ivan Espinosa led the way with one of his best races of the season, finishing the five-kilometer course in sixth place at 18:09. Juan Ramirez was seventh in 18:25.
"That was the best Ivan's ever run," Boone said. "He's limited only by what he limits himself with. I want him to not put artificial caps on what he can do. He can do more than he thinks."
John Hadle was 31st in 20:04, Colby Root 34th in 20:24 and Chase Brecheisen 61st in 22:25.
"We're seeing improvement, but the guys are ready to run a little faster," Boone said. "We can still run faster and we're still looking for a breakthrough race from some of our guys."
Eudora travels Thursdays to Rim Rock for the league championship. It then heads to Ottawa Oct. 20 for regionals.
More like this story