Golden opportunities
Published book follows life history in journal, quilt form
Leoti Westerhouse recorded her life in the pages of a journal.
Her granddaughter, Kaye Spitzli, enamored with Westerhouse's tales, recounted the stories in a quilt.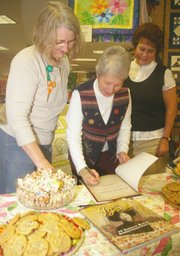 Now both the journal writings and the quilt pieces are published in "Golden's Journal: The Life Story of Leoti Westerhouse."
Spitzli wrote the book with her quilting friends Eula Lang and Christina DeArmond.
The book is a guide to recreating patches for quilts the three designed using blocks published during Westerhouse's lifetime.
"She's a great storyteller," Spitzli said. "Our favorites were of her life and of her growing up."
Westerhouse was born Oct. 17,1897, in Hopewell, south of Eudora.
She married Amos Westerhouse Jr. and spent her entire life in the area, living through the Great Depression, World War II and floods.
Westerhouse's journal entries are included in the book next to the related patches.
Originally, the three quilters decided to offer the patches and pattern through their company, Of One Mind. The information was also available at the shop they co-own ---- Quilting Bits & Pieces at 736 Main St. in downtown Eudora.
"It takes all three of us to make this work," Spitzli said.
More than 80 people in different parts of the country ordered the patches.
"It has a lot of techniques so it's very versatile," Lang said of the quilt projects.
At the suggestion of a friend, the trio approached the publishing division of The Kansas City Star with the idea.
The publishing company took it on and the book was released in early October.
Spitzli, Lang and DeArmond had a series of book signings Friday and Saturday.
It's the biggest project Of One Mind has attempted, Lang said.
"It has its own library number and everything," she said.
In addition to the book, there are different variations of the quilt design at the shop.
One version contains fabrics that were available during the 19th Century, another pastel quilt uses fabric that would have been available during the 1930s.
"The 1930s were feed sack prints," Sptizli said.
The blocks themselves are titled according to the stories related in the journal. During Friday's signing, Spitzli pointed to "Hopewell School" and "Captain Creek Church."
Spitzli's partners weren't initially sure about the "Pigpen" block in one of Spitzli's quilt designs.
At first, Lang said she didn't care for the colors.
The block was titled "pigpen" because Spitzli's grandfather, Amos, loved to watch his pigs feed, Sptizli said.
"He enjoyed watching the pigs rooting and snorting and bullying themselves," she said.
When the piece was finished in brown in Spitzli's quilt, her partners approved.
For more information about the book or quilt blocks and patterns, visit Quilting Bits & Pieces or call 542-2080.