Easy does it
Baldwin awaits after turnovers make for leisurely win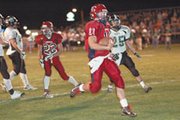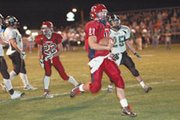 Eudora coach Gregg Webb stood in front of the packed stands surrounding Laws Field, his family flanked to either side of him, and waved his thanks to an adoring crowd.
Only moments before, career win No. 205 had become official, though he was currently acknowledging No. 200.
All that's on the Cardinals' minds this week is No. 206, however.
Eudora slammed De Soto 55-14, a win greased by eight Wildcat turnovers. The Cards are now focused on the showdown at Baldwin City.
Eudora plays Baldwin Thursday with the district championship at stake, and that's no small prize.
"It's huge. The loser has a very difficult road," Webb said. "On one side of the East (bracket) you have Holton (7-1), Louisburg (8-0) and Pittsburg (7-1). On the other side you have quality teams too, but not quite as good."
As if the motivation stops at the prospect of an easier track through the state playoffs.
Eudora also will to defend a regular-season winning streak that dates back 17 games to its 2005 district-deciding contest against the Bulldogs.
Eudora fell 35-20 in that game, and on the wrong side of the bracket, and ended its season against Louisburg five days later.
A personal rivalry between Eudora's 12 seniors goes back even further, however. When this year's senior class was in eighth grade, Baldwin's junior high team beat Eudora's 56-0.
Four years later, the Cardinals haven't forgotten.
"It could have been 100-0," Webb said. "We've matured and gotten better and there will be no problem getting our kids ready for that game."
Eudora can't expect as much help against Baldwin as it had against De Soto.
It was a tough running game, big offensive plays and an assignment-sound defense that enabled the Cardinals to win Friday's senior night finale against De Soto.
It was eight Wildcat turnovers that turned the game into a blowout, however.
Senior Travis Clarke rushed for 134 yards and four touchdowns and junior Ryan Fisher went for 102 more and another score.
Many of those opportunities were made possible by De Soto mistakes.
De Soto senior quarterback Erik Hill lost 21 yards on the Cats' first play from scrimmage, the snap flying over his head and 21 yards behind him.
They didn't return to positive rushing yards until late in the third quarter and turned it over nearly every way imaginable.
"That first snap was an indication," Webb said. "They never really recovered."
A fumbled pitch in the second quarter led to Eudora's third touchdown and a 20-0 advantage.
A fumbled snap on the first play of the second half eventually made the score 35-0 as Eudora quarterback Brynnen Webb snuck in from one yard out.
An eye-popping interception -- De Soto's Clinton Smethers fell to the ground bobbling the ball, then knocked it straight up in the air for Eudora's William Gadberry to grab -- led to a five-yard touchdown dive by Fisher.
Finally the Wildcats fumbled the ensuing kickoff and Eudora's Bryan Dudley took the recovery nine yards for a 55-0 lead.
"In the second half we got physical and beat them up a little, but they helped," Webb said. "We jumped on them and scored when we had to."
It amounted to an easy win, but Webb said examining the details shows there's plenty still to work on.
Big plays bailed the Cardinals out of several tough situations.
Trailing 6-0 in the first quarter, the Cats appeared to have held on a critical third and nine, having Eudora quarterback Matthew Abel contained and wrapped up. A Cat sack attempt slide off from Abel's waist, however, and the speedy senior went 48 yards, setting up the game's second touchdown.
Trailing 12-0 early in the second, De Soto had the Cardinals in a third-and-32 situation. A 34-yard touchdown pass from Webb to Fisher erased that.
The Cats held on a fourth-and-goal in the second quarter, but gave up a 41-yard touchdown to Clarke on the first play of Eudora's next possession.
De Soto broke into Eudora territory several times when the game still was within reach, and senior Shane Miller picked off a Webb pass early in the first quarter.
Every entry into Cardinal territory resulted in a turnover, however, and Miller's interception led to a punt.
Still, every game starting with Thursday's is the most important of the season. It's not the time to blow past the details, Webb said.
"The first half we tried some different things in some different sets and we were a little sluggish," he said. "We got ourselves in situations where we had to do things we didn't want to do.
"We took the opening drive down and scored and that was a nice drive, but after that it was all ugly."
More like this story