City rolls out new trash bins
Residents in parts of Eudora this week will come home to a blue 95-gallon surprise.
Weldon Enterprises Inc. has begun to transition the city to a new trash program by providing 95-gallon mobile trash carts to customers. Within the next two weeks, similar containers will be delivered to each household in the city.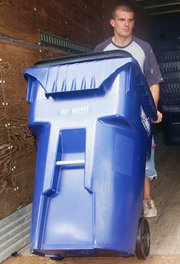 The new program's goal is to help cut down on loose debris and sanitary worker injury.
"We hope that there will be less trash out blowing around and exposed to animals," Eudora City Administrator Cheryl Beatty said.
In all, Beatty estimated about 2,000 households will be supplied with the heavy-duty plastic receptacles.
The transition began Monday as workers started delivering the containers.
"It's just going to make Eudora look a lot cleaner," Weldon Enterprises Inc. President Lloyd Weldon said.
There will be a transition period to allow residents to get used to the new system, he said. After the transition period, Weldon Enterprises will only pickup up trash placed in the new containers.
"Each trash can will be serial coded so that a trash can will go with a home to stay with that home forever until it wears out," Beatty said. "The homeowners are responsible for the trashcan and it stays in the home."
Starting in October, the city will raise trash rates to $13 per month to pay for the new program, which includes a drop-off plastic and aluminum recycling center located at the city shop, Fifth and Oak streets. The previous trash collection rate was $9.60.
"Nobody likes a rate increase, but I've gotten both positive and negative feedback," Beatty said.
Some citizens expressed excitement because the city offered containers that could finally hold a week's worth of trash, Beatty said.
Beatty also heard from those who believed the container was too big, she said.
Those unhappy with the new system expressed it would difficult to maneuver the containers and that the new carts wouldn't be able to fit within a garage.
To help relieve any issues the elderly or disabled residents might have with the new program, the city offers assistance.
Those older than 65 or disabled can apply for an $11 per month rate and a smaller can at Eudora City Hall, 4 East Seventh St.
"We wanted it to be significant enough because they're getting quite a smaller container," Beatty said.
Weldon Enterprises also will make special arrangements with the elderly or the disabled for alternate drop off points at a residence, Beatty said.
The city also offers an additional 95-gallon drum for an extra $3 per month.
Weldon Enterprises Vice President Randy Weldon is in charge of transitioning the city to the new containers.
Workers won't be required to lift trash bags anymore, Weldon said.
The new system will eventually allow the company to run routes with just one driver, he said.
The city also discussed including a compost pile in the new program. The idea is still around, but won't be feasible until at least next spring, Beatty said.
"We're still reviewing cost options since we're coming to an end, basically, on that season," Beatty said.
For more information on the new trash program, call city hall at 542-2153 or Weldon Enterprises at 542-1122.