Dictionary program gives youngsters gift of language
Fourth-graders at Eudora West Elementary now have the ability to drop the name of a complex tryptophan protein in an instant.
It would be a long instant, because the 1,909-letter word is the longest in the English language, but all the fourth-graders would have to do is open to the last page of a dictionary given to them Friday afternoon.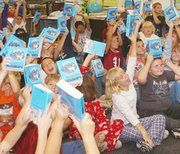 Lawrence Breakfast Optimist Club members Dick Holzmeister, Don Sheriff, and Kaw Valley Bank Vice President Steve Spence distributed the books, "A Student's Dictionary."
The club and Kaw Valley Bank acquire the dictionaries through The Dictionary Project Inc. The project operates as a national nonprofit agency. According to the organization's Web site, the project's goal is to help all students become better readers, writers and thinkers.
The club began by distributing the books to all the fourth-graders in Lawrence.
Eventually, Sheriff, a former Kansas Optimist governor, expanded the program into Eudora.
Part of the reason is because Sheriff lives within the Eudora school district, he said.
"I thought, 'hey, I'm paying taxes in Eudora,'" Sheriff said.
The Optimist have visited Eudora schools for the last five years. This year, the club will be distributing more than 900 dictionaries to students in Eudora and Lawrence. The group delivered 128 dictionaries to the fourth-grade students in Eudora alone.
The dictionaries are personalized to each student with each youngster's name printed on the first page.
In addition to containing spellings, definitions and word origins, the dictionaries also include information on the U.S. Constitution, states, and information on Braille and sign language.
Each year, the representatives from the club lead the students through thevarious sections of the dictionary.
Also each year, the Optimist club members tell the students they have received an inside tip on the next week's spelling test.
That's when the members direct the students' attention to the last page of the dictionary and the 1,909-letter word.
Sheriff said he enjoyed watching the expressions of disbelief on the students' faces when they first saw the size of the term.
Fourth-grade teacher Teresa Reetz said the dictionaries come in handy during class.
It gives students an easy way to look up syllables, she said.
"They really like having their own dictionary," Reetz said.
Fourth-grader Dylan Williams said he planed on using the dictionary.
"Probably for the rest of school," he said.
For more information about the national project, visit www.dictionaryproject.org.