Softball starts strong, lets down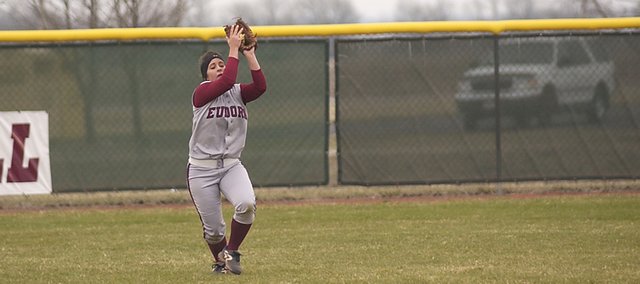 By the looks of it, the 2008 season will be a roller coaster ride for coach Cara Kimberlin and her Cardinals. In one week Eudora has already cranked up to the top of the coaster, sweeping its first series, then came crashing down to the bottom by dropping games three and four.
The topsy-turvy start could be due to a number of reasons, but Kimberlin said the explanation for her team's two losses was pretty simple.
"Honestly, we didn't come out to play today," Kimberlin said. "We had several mental errors and the only thing we didn't do today, as far as negatives go, was have a base running error. We had wild pitches and passed balls : we don't typically do that."
Against Paola on Tuesday night, the Cardinals' pitchers surrendered a lot of hits but the problem was what came after that. Kimberlin said her outfielders played well but the infield had too many letdowns.
The Panthers scored two unearned runs in the top of the first and tacked on a few more to take a 7-3 lead into the seventh inning. Then, Kimberlin said, her team decided to hit the ball and put together a three run rally that fell just short. Paola struck out the final Eudora batter with a runner standing on third to escape with a 7-6 victory.
In game two, Eudora looked to be in control and even took a 5-4 lead into the sixth inning. However, the Lady Cards shaky defense came back to haunt them as the Panthers started slapping the ball around and they couldn't gather it in to make the outs. Paola started to hit everything in sight and Eudora lost game two 12-5.
The majority of the Cardinals' problems were with their defense, but offensively they failed to execute most of the bunts they tried to lay down.
"We've always been a team that's bunted the ball well, but so far we're not showing that this year," added Kimberlin.
Things weren't all bad in the past week for Eudora as it won its first pair of games on Thursday, March 27, when it hosted Gardner Edgerton.
In game one, junior pitcher Miranda Cobell got off to a great start while her offense provided five runs in the first three innings. Gardner mounted a little comeback in the late innings, but Cobell regained control and Eudora eased its way to a 9-5 victory.
"I was excited but a little nervous because I've got some big shoes to fill from our pitchers last year," Cobell said.
In game two, the Cardinals struggled to adapt to the new pitcher and the Trailblazers led 3-0 after four innings. However, Eudora scored two runs in both the fifth and sixth innings, and after a Gardner run tied the game in the top of the seventh, senior Theresa Harper blasted a single up the middle to plate the winning run.
"I just kept telling myself to have faith and believe that I could hit it," said Harper. "The second game was a lot more exciting because we focused and played together as a team."
"The biggest thing about the second game was that they didn't get down," Kimberlin said. "They just kept battling back, picked up a few here and a few there, and then a huge at-bat for Theresa at the end."
Kimberlin never had any illusions about shutting teams out this year, and that's why she said the key for her team is going to be matching the opposition hit for hit. In order for that to work, Eudora must stop hurting itself with costly errors.
"I told them tonight, in practice we're going to have to do a lot of repetition," Kimberlin said. "It gets boring and old but we need to get into a rhythm on the field."
Eudora's next double-header is on Saturday in Garnett where it will take on Anderson County at noon. The two teams didn't play last year because their match-up was rained out multiple times and because of that Kimberlin isn't sure what to expect. What she does know, however, is that her team has the chemistry to pull together and climb back to the top of the roller coaster.
"This is a group of ladies that get along well and have fun but they get down and work too," Kimberlin said. "They have a lot confidence."