Teacher of month develops academics, citizenship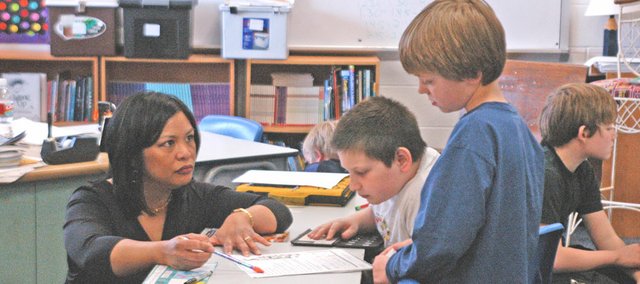 It's assessment time at West Elementary School. While third-grade teacher Peggy Johnson values developing the skills that will allow each student to hopefully be successful on the assessments, she equally values developing skills that will allow each student to become a good person.
"There's so much emphasis on grading and the numbers - the statistics of school - and sometimes that takes the humanity out of education," Johnson said. "I don't intentionally go around being nurturing, but we have to provide the foundation for them to be good citizens and good society members to one another. It's really one of the biggest foundations, I think, for all of the teachers here - the growth of the individual."
West Principal Jan Irby said Johnson's nurturing style was one the reasons she was chosen as the Eudora Chamber of Commerce's Teacher of the Month for March.
"Her high caliber of professionalism and passion for children - they just exemplify what a nominated teacher for any award should have," Irby said. "Every opportunity is a teaching moment - whether that's a life lesson or whether that's an academic moment - she just teaches the whole child."
Johnson said the announcement came as a surprise to her and she valued it because her fellow teachers chose her.
"I'm humbled because nominations are made by peers and people in the school system, so any recognition is awesome especially because it's important to have your peers have a high regard for you," she said. "To be recognized as a professional amongst brilliant people was the most humbling thing."
Johnson, a wife and mother of two, returned to college when she was 30 and received her teaching degree from Pittsburgh State University. Now 42, she has been a teaching for six years, with four of those years spent in Eudora.
Her husband Mark was in the military, which caused the family to move around. Mark now is retired and Johnson relishes being able to put down roots.
"I love it here," she said. "The community is great and safe for my kids."
One of the things she values about the community is the involvement of parents in the lives of the students she teaches.
"It's glorious to have parents that are in contact with the teachers and to have a support system built in there," Johnson said. "The children deserve that."
Despite the recognition, Johnson still sees room for improvement, especially in the area of technology, when it comes to teaching.
"I need to get more into it and the new building will be able to provide that," she said, "As educators, we need to constantly be upping our game and that keep us excited and then that will carry over to the kids."