Business owners discuss how to survive construction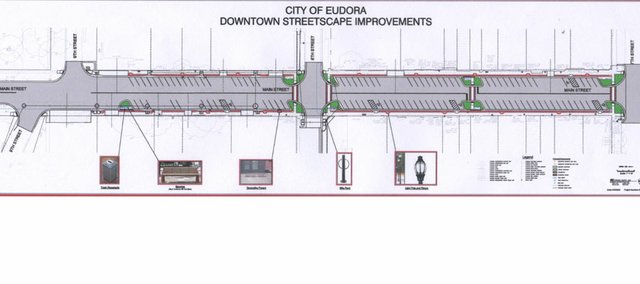 What's good for the community will be good for you.
That is what Kansas Small Business Development Center Consultant Mark Buckley told members of the Downtown Eudora Business Association Friday at a meeting. Buckley talked about how to survive during the construction that will come with the downtown revitalization, as well as how to remain vital after the revitalization.
The meeting was equal parts motivational and informational, as Buckley instructed members of Downtown Eudora Business Association to keep all lines of communication open throughout the process that will shut down part of Main Street between 7th and 9th streets.
"That was my main goal - to get as many people down here working together as possible and communicating with each other," DEBA President and co-owner of DC Custom Cycles Tina Lencioni said.
Construction for the project, which will include sewer, streetscape and surface improvements, is set to begin June 1 and finish Sept. 12.
The project is estimated to cost a total of $1,980,692, with the city paying for $1,228,463.
Douglas County will help pay for the streets, and a grant from the Kansas Department of Transportation will pay for 80 percent of the costs associated with improvements made to streets, sidewalks, electrical systems, landscaping and street furnishings such as benches.
The city will pay for all waterline and storm sewer projects.
"In the past, it was talk - it was in the planning stage, and we weren't sure that it was going to happen," Cutter's Smokehouse owner Dan Strimple said. "Now, we know it's to happen and I think that's the key to the whole thing - everyone knows it's going to happen so it's time to get with it."
Buckley also encouraged the group to hold at least three events per year. Discussions of holding more events with downtown as the centerpiece have been ongoing in both the DEBA and the Eudora Chamber of Commerce.
Chamber President Doug Mateo, who has attended each of the DEBA meetings, said the two bodies will work hand-in-hand during and after the construction.
"There are business owners in the Downtown Business Association that are members of the Chamber as well, so we want to support them the best we can," he said.
Mateo also said he and Coffee Talk owner David Alvarez are in talks to have a concert at CPA Park with as many as four bands sometime in June.
"I'm just tickled to death that something is happening," Broers Flower Shop owner Heather Noble said. "It's not just talk and we are getting people involved, and maybe it's just a small group at first, but as we go along people will see that positive things are happening."
Buckley said being patient, in the context of dealing with construction and planning events, would be especially important.
Lencioni said patience definitely is a virtue for every small business owner.
"I always kind of tell people that when you're in a small town, sometimes you've got to just take baby steps," she said. "And whether it's growing your business or wanting new things to happen, sometimes you've just got to take it a little at a time."
For more information on the DEBA, go to
www.dowtowneudora.org.