Cardinal tracksters take first and third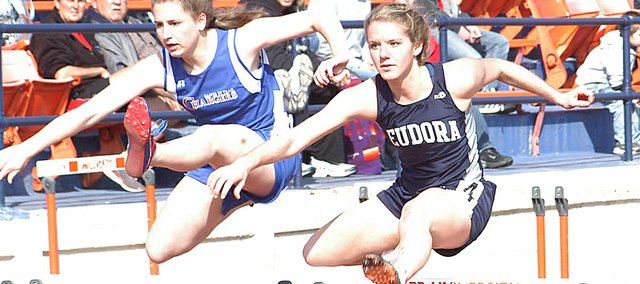 Time to rest was at a premium for the Eudora track team Friday, as coach Phil Katzenmeier had most of his athletes competing in three or four events at the Riley County Invitational.
This gave him a chance to see how certain people performed in certain events, and the strategy also netted some positive results in the standings. The girls edged out Riley County to win the meet with 126 points while the boys came in third.
"It was a good meet for us to get a lot of experience," Katzenmeier said. "It can be pretty difficult because a lot of them don't get a lot of rest in between their events, but we do a lot of this at this time of the year.
"In some cases, we're still looking for some people to step up and other times the multiple events just helps them with their conditioning for their one strong event."
Either way, the multiple event approach worked great for the Cardinals on Friday, and it was helped by the fact that the Riley County Invitational allowed more than just three runners from a single school in any event.
Katzenmeier took advantage of that, loading up the sprint events with his athletes. In the case of the girl's 100-meter dash, it couldn't have worked much better. The Cards' quartet of juniors Rachel Pyle, Tianna Dunnaway, Alisha Wingebach and Kendal Abel finished second, third, fourth and fifth, respectively. Then, all four of them came back out and combined their 100 talents to win the 4-by-100 relay in a meet record time of 51.7 seconds.
"The most memorable event was probably the girl's 100," Katzenmeier said. "Our performance there was really impressive."
Other impressive events for the girls included the pole vault and 300 hurdles. Junior Allison Hoover tied the meet record with a winning vault of 9 feet, while senior Emily Ballock continued to have no trouble in her strongest event, the 300 hurdles, winning in a meet record time of 46.0 seconds.
Ballock also won the 400 in 59.6 seconds and Liz Hoese captured the 800 crown in 2:39.6.
For the boys, senior Jordan Katzfey was all over the track and the field. Katzfey won the triple jump with a leap of 40 feet, 8.5 inches; placed fifth in the long jump at 18 feet, 8.75 inches; finished third in the 400 in 55.7 seconds and led off the third place 4-by-400 relay team. Katzfey was one of several athletes for both the boys and girls to compete in four events.
"It's a little bit of experimentation, trying to find out who's able to do what," Katzenmeier said. "There was some good events, for sure, but there were others that weren't as good as we've seen. It varies from meet to meet and it always will."
Sophomore Justin Ballock, like Katzfey, seemed to be everywhere for the Cardinals. Ballock won both the 300 and high hurdles in times of 41.9 seconds and 16.7 seconds, respectively. He also placed fifth in the high jump and anchored the 4-by-400 team.
This meet is one of Katzenmeier's favorites of the year, but it has to do with more than putting everybody into different events.
"I like going here because everybody we see here we don't see at any other time," Katzenmeier said. "It gives us a chance to get away."
Next up for Eudora is a trip to Garnett to compete in the Anderson County Invitational, where it will face several league competitors. Still, there are no restrictions on the number of contestants from a school in certain events, like last week, and Katzenmeier hopes he can once again find the right mix in each event and come away with another strong showing.