Eudora youth prepare to perform in 6th annual variety show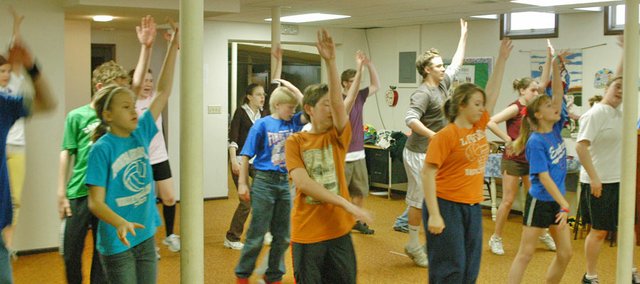 One side of the basement in St. Paul United Church of Christ on Sunday afternoon was full of leaping, running, sweating children. But the other side, which houses the Eudora Ministerial Alliance Food Pantry, is not nearly as full as it once was.
Some of the cupboards literally are bare, but that's what the dancing children on the other side hope to change as they practice for the 6th Annual Variety Show to benefit the food pantry.
All of the proceeds from the show, which will take place at 7 p.m. Saturday in the Auditorium at Eudora Middle School, will go toward adding to the pantry's supply of nonperishable foods and also will add to a fund that doles out $25 food vouchers once a month to the needy.
"We're excited this year because the need is much more real than in previous years," show organizer and Eudora High School teacher Robyn Kelso said. "The need always has been real, but the economy this year has really hit people."
The show started as a sweetheart dinner in the basement of St. Paul's that added some singing and dancing.
Kelso didn't advertise the need for participants, but about 25 children from Eudora schools ranging from elementary to high school students will perform in the show that features dance numbers, skits and some lip syncing.
"It's kind of been word of mouth," she said. "Once they heard about this big production, they started inviting their friends. And of course the more we have the more we can do."
Alongside Kelso in organizing the event are Cathy Box, Carrie Brecheisen, Mike Kelso and Jessica Vogt.
"I have a great support group," Kelso said. "I just kind of got the ball rolling and they've really stepped in and done a lot of work.
The student participants have sacrificed three hours every Sunday since January to rehearse the show, but it has all been worth the time and effort.
"I think it's a lot of fun knowing that you're helping the food pantry," Brea Carder said. "We know a lot of local people use it, so it might even help people we know."
The program will last one-and-a-half to two hours and there also will be an auction for homemade pies and quilt.
"I'm hoping there's going to be something for everyone," Kelso said
Tickets cost $5 for all ages. To purchase tickets, call St. Paul United Church of Christ at 542-2785 or e-mail mpkelso@gmail.com.
More like this story