Baseball team erupts in fifth to claim victory after long break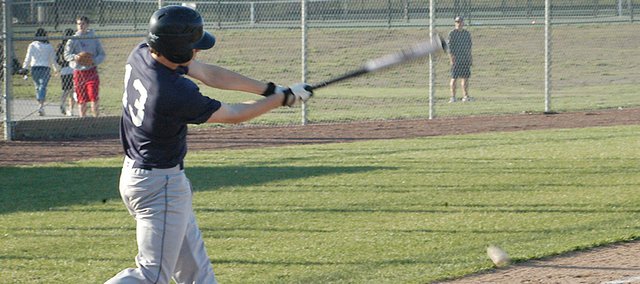 At the start of the fifth inning in Eudora's first tilt with Spring Hill Tuesday, coach Shaun Edmondson's squad trailed 9-3. That's when the Cardinal offense erupted and produced 17 runs over the final three innings to blow out the Broncos, 20-9.
However, Edmondson would have preferred to hold on to a few of those runs and use them in the second game as Spring Hill bounced back to take the nightcap, 10-3.
"When you go on a 17-0 run in a double-header, you're not thinking one game's a win and one game's a loss, but their pitcher in the second game did a nice job. You've got to tip your cap," Edmondson said.
In the early innings of game one, the only thing Eudora could hang its hat on offensively was a homerun by junior Kyle Swanson. That all changed when the fifth inning rolled around as the Cardinals started to do everything right and Edmondson saw a multitude of positives.
"We just did a lot of things well," said Edmondson. "We were running the bases extremely well, we put the ball in play and we hit balls hard. We're a team that can have an extremely explosive offense, and when you put the ball in play, good things will happen."
Eight players scored a run in game one and seven of those players scored at least two. Leading the way was senior Chad Krutz with four, followed by sophomore Tyler Beebe and seniors Morgan Abel and Swanson, who each scored three times.
Put into a similar trailing situation in game two, Eudora failed to re-create its previous magic.
While heads up base running helped the Cardinals load the bases in the fifth inning, an over-aggressive attempt to score from third on a passed ball by pinch runner Reece Long ended the threat without a single run being scored. Hindsight may be 20-20, but Edmondson said he has no problem with his runner trying to make a play.
"That's how we play," Edmondson said. "We'll run ourselves out of some innings, but we'll also create a lot of innings with our base running. We're an aggressive team and I pat them all on the back for their effort."
The game was still within reach for the Cards in the last two innings, but their bats had already had enough and packed it in for the night.
"I thought we still competed extremely hard and put ourselves in a position to win the game, but it just didn't happen," said Edmondson.
What did happen was that Eudora was able to play a game for the first time in 10 days. Weather forced the Cardinals' two previously scheduled match-ups to be postponed.
"We were excited to be out there and our effort was tremendous all day long," Edmondson said. "It was nice to be back on the field."
Eudora is scheduled to be back on the field again Friday evening when it hosts Bonner Springs for a doubleheader starting at 4:30 p.m. After that the Cardinals will hit the road again for a 4:30 double-header with Ottawa.
There have been a lot of good things this season for Eudora, but when asked what the key to future victories for his team will be, Edmondson didn't hesitate.
"Make routine plays," Edmondson said. "If you had seen us in practice on Monday, you would have thought we were the Yankees of old the way we were making every single routine play.
"Our pitchers will fill it up and we're going to score runs, so I'd say when we make routine plays we're not going to get beat."