Can't touch this
Softball sweeps Spring Hill in return from postponements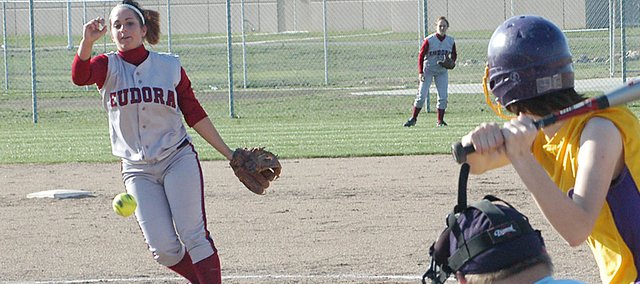 Rain kept them from playing for over a week. Nothing could keep them from winning Tuesday night.
Under clear skies, Eudora played its first double-header since April 5 and swept both games from home team Spring Hill, 5-2 and 8-5. The team looked excited to be back on the field in a real game and coach Cara Kimberlin was excited about the outcome.
"It's always encouraging to come and get two wins at Spring Hill. (Bronco coach) Claude (Madison) always puts a strong and competitive team on the field," Kimberlin said.
Lady Cards ace pitcher Mackenzie Salzman was electric again Tuesday evening, allowing no earned runs in game one. The senior appeared to be in trouble in the bottom of the seventh inning as she loaded the bases with no one out, but Kimberlin was confident her hurler could get it done.
Salzman responded by retiring the six, seven and eight hitters of the Bronco line-up, striking out the first two and coaxing the final batter into a ground ball for the final out.
"It fell in a good part of their order that hadn't been hitting the ball real well," Kimberlin said. "If they had been hitting her hard the whole game, I might have been a little more concerned."
In the 10 days between games, Eudora spent a lot of time studying film to find its own weaknesses. One of the players that benefited the most from this exercise, Kimberlin said, was senior Theresa Harper. In the film room, Harper and the staff realized she was pulling away from the plate too much which diminished her power potential.
In the second inning of game one, Harper used her new swing to belt a two-run home run over the left field wall.
"She's made some good adjustments and really worked on those things in practice over the last week, whether we were inside or out," said Kimberlin.
Junior Bailey Scott scored two runs to help get the victory.
Salzman also started on the mound in game two and she continued to baffle the Bronco batters.
Salzman was replaced by junior Miranda Cobell in the third inning, and after a rocky start, Cobell was also solid for the Cardinals. She retired Spring Hill in order in both the fourth and fifth innings.
Sophomore Evan Folks and freshman Allie Johnson each scored two runs and Salzman went 3-for-4 with a run scored.
In the seventh inning, Kimberlin put Salzman back on the rubber to close out the game.
"They had hit Miranda a little bit but they really hadn't hit Mackenzie at all," Kimberlin explained. "She was having a little harder time hitting the strike zone in that last inning of the last game but we got the job done."
Kimberlin said each game could have gone better because Eudora stranded too many runners and Folks had some tough luck at the plate. The catcher was ripping the ball all over the field, but every place she hit it stood a Spring Hill fielder ready to make a play.
"She's hitting it hard but she's struggling mentally because she has high expectations for herself and the ball's not going down or getting through," Kimberlin said. "I just told her, 'Don't pout about the way you're hitting the ball because the important thing is we just walked out of here with two wins.' That's two wins towards the league and two wins towards regionals."
Tuesday night was solid for Eudora, but every night can be a mystery for a team that's still trying to figure out how to perform at the top of its game consistently. The Lady Cards have had some uncharacteristic struggles early in the year and because of that, Kimberlin isn't quite sure what to expect when her team travels to Wellsville Thursday for a 4:30 p.m. double-header.
"I can't tell with this team, I really can't," Kimberlin said. "My expectations are always to win and not make mental and physical mistakes, but you just never know."
On April 22, Eudora will play its third road series in a row as it travels to Ottawa for another 4:30 double-header.
More like this story