Research on new fire station to begin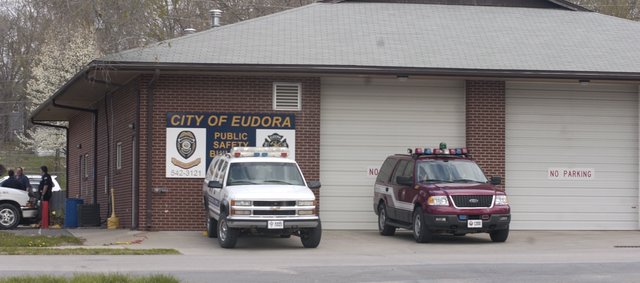 Eudora City Council members on Monday gave their consent to allow Eudora Fire Chief Randy Ates to begin research for a new fire and EMS station bond issue.
Ates cited space concerns in the current facilities, which he said has become a bigger problem since the facilities now house both fire and EMS personnel, coupled with low construction costs as the main reasons for wanting to begin the research.
He said that the low building costs have been evident in bids made on projects throughout the city.
"With the economic slowdown, I've noticed that when things have been put out for construction bids, we're getting good prices," Ates told the board.
Ates requested to do research with the intent of having the bond on the ballot in November in an effort to draw more voters. However, City Administrator Cheryl Beatty said time would not allow for a bond referendum that early and it would be more realistic to place the issue on the April 2009 ballot in which city officials are elected, as well.
In other actions, the council:
¢ Approved a cancellation of a city-sponsored spring cleanup week. City officials determined that there no longer was a need for a spring cleanup week because all materials picked up during that week already are picked up by Weldon on the first week of each month.
Council member Jeff Peterson commented the action could look like an attempt by the council to cutback on services, though he knew that wasn't the case. He asked that the city communicate with residents on the issue.
¢ Approved the purchase of 384 Turtle Meters at a total cost of $34,560 from Kriz-Davis Company
¢ Approved the purchase of a 1999 GMC Digger truck at a cost of $70,000 for use by the electrical department.
¢ Approved the mutual aide agreement between the Eudora Fire Department and the Eudora Township Fire Department.
¢ Approved the spraying of noxious weeds by Douglas County at an estimated total cost of $2,300.
¢ Approved the setting aside of $50,000 for chip and sealing of streets. Beatty initially said the city should be more conservative in their spending in this area, but the harsh winter merited the expense.
¢ Granted permission for the city to go out for bids to clean a culvert in the area of Sandusky Drive and 13th Street.
¢ Awarded a bid to mow the cemetery, nuisance abatements and 14th Street drainage area to Fulk's Mowing LLC.