Softballers muster a single run against stellar Ottawa pitching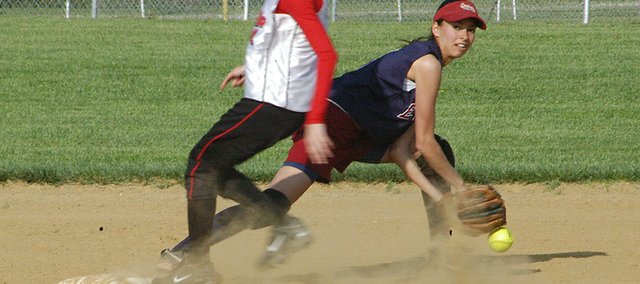 When a team is told that it's about to face the best pitchers in the conference, the intimidation alone can have an effect.
That seemed to be the case Tuesday night as Eudora played a double-header at Ottawa, which boasts the top two pitchers in the Frontier League. The Cardinals were shell-shocked in game one, narrowly avoiding a perfect game for the Cyclones pitcher and falling 9-0. They came back with more intensity in game two, but still couldn't keep up and lost 6-1.
"I don't know if we were lethargic or just dumbfounded and in awe of this team, but there were some routine plays that we usually make that we didn't tonight," coach Cara Kimberlin said.
The Cyclones scored six runs in the second inning thanks to some poor defensive plays from the Cardinals.
In the top of the seventh, sophomore catcher Evan Folks ripped a triple to the gap, which was the only hit in an otherwise perfect game for Ottawa. The mental lapses defensively stuck out like a sore thumb for Kimberlin because that's not usually a problem for Eudora.
"When a team hits the ball and jacks it over your center fielder's head, they earned that," said Kimberlin. "But when you put a runner on and give them an out because you drop a ball at first or don't cover a base or don't communicate and a ball drops in the outfield, those are the things that really irritate me."
In between games Kimberlin reminded her team that everyone makes mistakes and tried to get them fired up to go out and take game two. After giving up three runs in the third, the Cardinals started to show some signs of life in their half of the fourth.
Folks scored what turned out to be Eudora's only run of the day and it looked as though Kimberlin's team was ready to make a charge. However, Ottawa's hard-throwing hurler shut Eudora down after that and Ottawa added three more runs in the sixth to put the game out of reach.
Last Thursday, Eudora swept a pair of games at Wellsville, and making the switch from Wellsville's pitchers to Ottawa's was difficult.
"These are the two best pitchers in the league, by far," Kimberlin said. "You've got to make adjustments to hit the ball and we didn't do that."
Now Eudora must learn a few lessons from Thursday and pick up the pieces or two losses will turn into three or four.
"Those are the kinds of things that test how good your team is," said Kimberlin. "Now you bounce back against a team that you're equal to or better than skill-wise, how are you going to come out and perform in that game?"
Eudora will answer that question Thursday night when the team will be the host to Louisburg in a make-up double-header at 4:30 p.m.