Thellman, Brown take early leads in primaries
Douglas County releases early results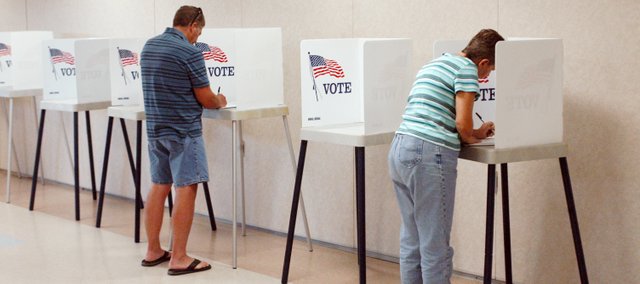 Nancy Thellman and Grant Eichhorn took early leads in party primaries for the 2nd Douglas County Commission position.
With all 22 precincts reporting, Thellman led Ken Adkinson, of Eudora, 1,025 to 330, in the Democratic primary. In the Republican primary, Eichhorn led David Brown, 1,064 to 510.
Former U.S. Congressman Jim Slattery was overwhelming Lee Jones of Overland Park in Douglas County with more than 80 percent of the vote and a 3,364 to 806 count. In Johnson County, Slattery rang up a 3,358 to 1,959 advantage in advance ballots.
In Republican primary for 3rd District U.S. House, Nick Jordan had sizable leads in both counties in the early going. Jordon led Paul Showden 10775 to 3,643 in Johnson County and 1,189 to 615 in Douglas County.
Other early results:
3rd District Douglas County Commission:
Republican, 3rd District Douglas County Commission: John Tacha, 1,379; James Flory, 1,892.
Democratic
Ken Grotewiel, 857
Clenece Hills, 741