EPD

,

USD

491 plan alternate bus routes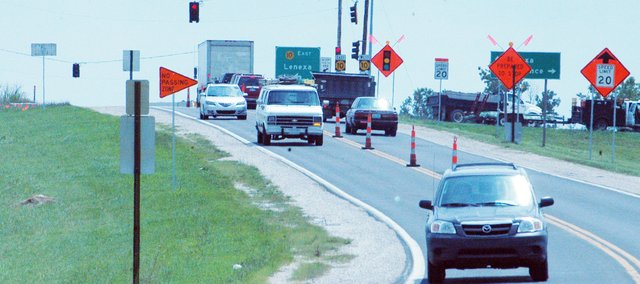 Traffic over Church Street's Kansas Highway 10 overpass already has been drastically slowed by construction, and it likely will get worse during peak times in the morning and afternoon when school resumes Tuesday.
In preparation for that scenario, USD 491 operations director Hal Reusch and Eudora Police Chief Greg Dahlem have been discussing alternate routes for school busses.
"We've been trying to go out there (to the overpass) during the mornings and try to visualize what we have now and look at the traffic flow that we've had particularly coming out of Nottingham (Elementary School)," Reusch said. "In talking with Chief Dahlem, we looked at two or three different routes.
"And looking at where the busses are coming from, I believe we're going to need to use some alternate routes rather than trying to come across that bridge."
New approaches - which are the sections of the road that are about 10 to 13 feet from the actual bridge - will be constructed to correct the direction in which water drains off of the bridge.
The bridge is one of two roadways in Eudora that connect to the southern part of town where the middle and high schools are located, as well as the Eudora Township Fire Department.
Construction is set to finish by Oct. 1, when Church Street then will receive a mill and overlay extending from the northern base of the bridge to 10th Street that will take about eight to 10 working days.
Dahlem said the bridge needs the construction, but worries about auto accidents as a result of the change in routine
"We're creatures of habit and we get used to not having to slow down or worry about cars until you get to the top of the bridge," he said. "It's just going to take people time to get used to it, but I think that we'll probably see a few more rear-enders.
Reusch and Dahlem plan to have busses avoid the bridge and instead take Winchester road to 28th Street in order to travel to the south and then head back the same way when traveling north.
Having busses travel from the west off of White Dog also was a consideration, but backed up northbound traffic could pose a problem for the busses trying to turn southbound on Church Street.
Dahlem said cutting down on the number of cars traveling on the bridge could expedite the project because construction crews would be able to spend less time having to watch their backs and more time working.
Superintendent of Schools Don Grosdidier also is concerned about students who walk over the bridge to school, which is something the district already had been discouraging.
The school district has eight busses running in the morning and nine busses running in the afternoon. It also has anywhere from two to four cars out at those times for transporting special education students.
The district will not use staggered starting times for any of its schools in an attempt to cut back on traffic.
"Our biggest concern is going to be getting the kids to school safely and as close to on time as we can," Reusch said. "I think that between Don, myself and Greg, we are planning for this, but you just don't know for sure until all of that traffic hits."
Dahlem also is worried about any instances that demand emergency vehicles on the south side of town because there is only one lane open on the bridge.
"I just hope that the people realize that the people know they need to yield, that's probably my biggest concern," Dahlem said.
The school district is asking staff to arrive at school before peak times for student drop-offs and have made five suggestions for families to help alleviate traffic congestion:
¢ Be flexible and consider taking alternate routes
¢ Take advantage of the free shuttle service at any of the school buildings, as well at the community learning center at Ninth and Main streets.
¢ Carpool whenever possible.
¢ Allow extra time for travel to and from school
¢ Never walk to or from school along Church Street and instead get on the shuttle at Nottingham Elementary School.