New assistant principal already feels at home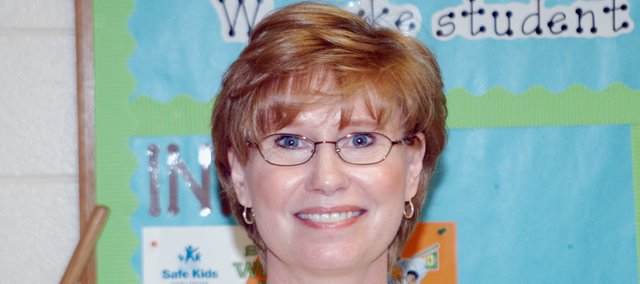 Shelley Dougherty had lived in Russell for most of her life. She grew up there, she had been an elementary school principal for 20 years there and she raised her family there.
But despite working and living in a community she describes by using words such as "incredible" and "fabulous," she still felt it was time to move on.
"I had been thinking for awhile that it might be time for a change," she said. "When I read about the Eudora School District passing a bond to build a new elementary school, then I got interested."
The Fort Hayes University alumna became even more interested when she and her husband Rick, who flies out of KCI extensively as a result of his job, thought about how much better it would be for him to drive just 45 minutes instead of more than four hours to the airport.
While she conceded it was going to take a lot to get her to leave Russell, she felt immediate connections to the people she met in her interviews for the position of assistant principal at Eudora's new elementary school.
"When I came back to interview a final time, I met with teachers and parents, and I met with the administration and academic team," Dougherty said. "I thought 'these are really great people.' Not just professionally speaking, but the kind of people you want to work with and get to know in a community."
Though the new elementary school, which will house grades first through fifth, will not be ready until fall 2009, the district hired Dougherty to begin to work with staff and students so she can hit the ground running when the new facility opens.
"We're really excited about bringing somebody into the district with her level of experience and we anticipate she's really going to aid us a great deal in this transition process with the new school," Superintendent Don Grosdidier said.
Dougherty and her husband moved to Eudora July 1 and began working with both Nottingham Elementary School Principal Jim Lauer and West Elementary School Principal Jan Irby
"I'm really excited about working with Mr. Lauer and Mrs. Irby," Dougherty said.
"I want to get to know as many as the teachers and staff at both Nottingham and West and I want to be visible at both schools to all of the children."
Lauer said Dougherty, whose office currently is at Nottingham Elementary School, has been a welcome presence.
"It's all been very positive," Lauer said. "We're on the same page and working very well together during this process. She brings a lot to the table with her experience that will help us.
During her first month as part of the district, she already has been impressed by the standards and work ethic of teachers in the district.
"The expectation here is that all students will succeed," Dougherty said. "Teachers have been in and out of their classrooms during the last week and it just shows the level of pride they take in their work. It's not just a job to them, it's a calling."
As for the role she'll play during this year as opposed to next year, it most likely will be a fluid situation that will be in a state of flux early on.
"I'd like to think that it's going to be kind of a team approach," she said. "And this position is new, so I think we'll kind of build it as we go along. I don't really want to pay as much attention to that title as much as I just want to be a member of the team."
It was the people that sold her on Eudora, but the facilities - and plans for future facilities - in which those people work, also impressed her.
"They are cutting edge plans - that's what I told my family when I accepted this position," she said, referring to plans for the new elementary school. "And looking at the middle school and the high school this community is blessed.
"I know a tremendous amount of planning and effort in this community and the district has gone on and I applaud their efforts. And now, I just want to climb on board and help in any way I can."
Dougherty hopes Eudora will satisfy her professional needs, but she also is happy about the leisure activities the area boasts.
"I have never been to a KU football game or a KU basketball game, so that's one of my goals," she said.
She also will be closer to three of her four children and all four of her grandchildren.
"I really feel like Eudora will be a great place to call home," she said.