USD

491 not bogged down by wetlands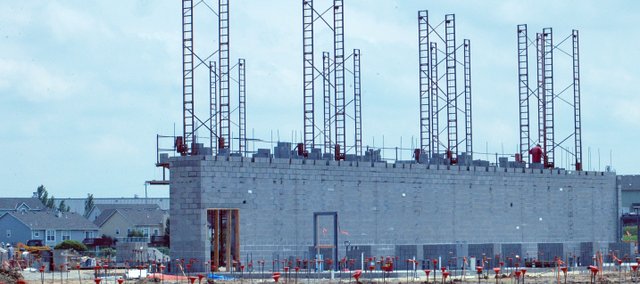 The Eudora USD 491 Board of Education elected to turn a possible negative into a positive during a special meeting Thursday.
After the U.S. Army Corp of Engineers designated .88 located in the northeastern corner the 46-acre site of the new elementary school as wetlands, the board voted to do a combination of on and offsite mitigation that will save a portion of the wetlands and allow the ecosystem to be used in an educational manner.
The Corp of Engineers defines wetlands as, "Those areas that are inundated or saturated by surface or ground water at a frequency and duration sufficient to support, and that under normal circumstances do support, a prevalence of vegetation typically adapted for life in saturated soil conditions."
In this case, it is a stream and surrounding vegetation.
"We knew from the beginning that there would be some issue with that corner, but what the Corp of Engineer's findings would be wasn't readily known," Eudora Superintendent Don Grosdidier said.
Developers typically relocate the wetlands elsewhere on the property, or pay to relocate wetlands off of the property.
The board of education chose to do a little of both.
In what still is a developing situation, Grosdidier said the district chose offsite mitigation of the stream and would move the rest of the wetlands to the westside of the property.
"It won't impact any future development and it will also have an educational use there, as well," Grosdidier said. "We didn't keep it in its current location because the slope of the land wouldn't have been readily accessible for kids."
Grosdidier said architectural plans currently are being developed and will be sent to the Corp of Engineers, which will give the district feedback within the next two weeks
More like this story