All in the family
Dragster racing turns into a Miller family event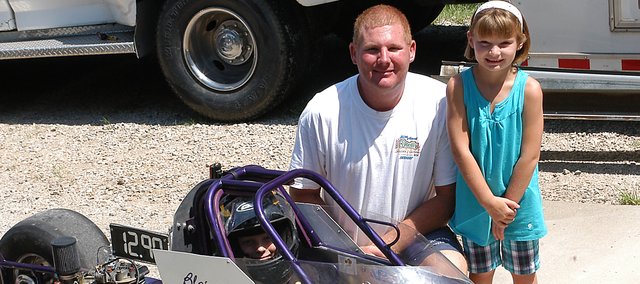 Blaine and Ashley Miller don't remember going to the races for the first time.
The reason for that demonstrates how ingrained racing is in the Miller family.
"They were two months old when they first went to the races," their father Kevin said. "They've grown up with it all their lives."
The seeds that were sown at that time now lead to a family-wide involvement in the sport for the Eudora family of four.
Kevin began racing 22 years ago. In fact, the car he bought in high school, a 1975 Chevy Nova, is the car he races at events today. Then when Blaine reached age 7, he wanted a piece of the action. Dad responded by purchasing the necessary parts and, along with Blaine, constructed a junior dragster from the ground up.
A 9-year-old Blaine will bump up into the next age bracket a year from now, and 7-year-old sister Ashley will man the cockpit of the junior dragster.
Kevin and Blaine then will build a newer, faster dragster for Blaine, and the racing threesome will compete at events in Topeka together.
So far during the summer of 2008, Blaine and Kevin both have two first-place finishes. The mirrored success ends there, though, as Blaine has racked up two runner-up finishes while Kevin has one.
With 1,154 points Blaine is second out of four competitors in points for his division - class C of a National Hot Rod Association junior drag racing league, which consists of 8-and 9-year-olds. Samantha Little, leads Blaine by three points.
If he has anything to say about it, that won't be where he is in the standings when the season concludes.
"Winning," Blaine said when asked about the best part of dragster racing. "Every time (on the starting line) I have a visual of being in the winner's circle with a big trophy."
But to parents Kevin and Amy, winning isn't the only part of the sport that is important. Other things such as sportsmanship, safety and family bonds enter into the conversation when they talk about what racing means to them.
Safety
Racing accidents, although few and far between, are part of the sport. The Millers realize this, and although they take every precaution possible, don't really fear it.
"They're as safe as they can be. He's safer on that (the dragster) than he is on a bike," Amy said. "From being in it with Kevin for as long as we've been in it together, it hasn't bothered me."
Kevin said the junior dragster racers wear the same ensemble as the adults, complete with fireproof suits and shoes, gloves, a neck brace, arm restraints and, of course, the helmet. Arm restraints are used so that in the event of a rollover, the racer's arms will remain down in the cockpit rather than outside of the dragster.
"It's part of it. It's not a safe sport. That's just something you have to swallow at the beginning," Kevin said. "But you still take as much safety precaution as you can."
Sportsmanship
Blaine learned to drive a dragster in a parking lot when he was 7 years old. Ashley is currently going through that same process, and will compete in Topeka's NHRA junior dragster events as an 8-year-old.
Kevin said lessons were learned in that environment that pits children against each other.
"It teaches discipline and good sportsmanship," he said. "Winning and losing, you always want to be a good sportsman."
Family bonds
During the racing season, the family spends entire days at Topeka's Heartland Park. But the family bonding experience extends to practice as well. Tuesday afternoon, the Millers were headed out to a parking lot, dragster in tow, so that Ashley could practice and get a feel for her new toy.
"We just let them drive around and get used to the dragster, get used to the long nose, how to turn it, what the feel of it is," Kevin said. "There's a lot of practice to it."
Then, after sufficient practice, Ashley will make her debut during Labor Day weekend at a practice run in Pittsburg.
Then it's on to bigger and better things next summer, as all three racers in the family take to the track while Amy cheers them on.
"It's been great, just being together at the race track, everybody working together for one common goal," Kevin said. "It keeps everybody close and working together that way. It keeps the family bonded together better."