Born a traveling man
Bryant enters district, race for starting quarterback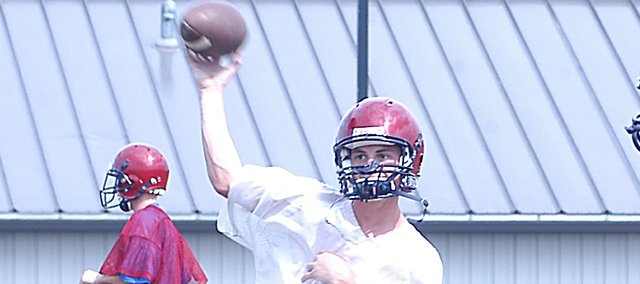 Zach Bryant knows the way from Wichita to Eudora quite well.
Bryant is originally from Wichita and attended Wichita Northwest High School as a freshman. His dad got remarried and during the spring semester of his sophomore year he moved to Eudora and got his first taste of Eudora athletics, playing baseball. That summer he went back to Wichita and attended school there for the fall semester of his junior year. He then came back to Eudora for the spring semester last year.
The Cardinals opened practice Monday, and Bryant, who hasn't played football competitively since his freshman year at Wichita Northwest - where he played safety and backup quarterback - said he welcomed the grueling two-a-day practices.
"I enjoy it," Bryant said. "It's nice being active and everything. I just really enjoy being out here."
Bryant's travels have now landed him in the mix of a four-way race for the Cardinals' starting quarterback position. Bryant, along with Coulter Vestal, Drew Noble and Christian Richardson, will battle it out to be the team's starter.
"He's got some ability," Eudora coach Gregg Webb said of Bryant. "They are all fairly equal right now."
Webb said that having a quarterback battle wasn't typically good for the team because he would like to get the quarterback situation minimized to one or two people soon.
"We're going to give all four of them a great look this week and then we'll probably narrow it down next week," Webb said.
Even though Bryant hasn't played quarterback for Eudora during a game, he played the position as well as safety during 7-on-7 this summer. Bryant said he would prefer, however, to line up on the offensive side of the ball. Bryant also took reps under center Monday at the team's first practices and threw the ball accurately
downfield.
"Quarterback, definitely that's where I want to be," Bryant said. "But if that doesn't work out then I'm still here and safety, of course."
Coach Webb said with this year's squad, some players would have to play both ways and Bryant could be one of them.
"I think those other kids are talented enough to play a different position," Webb said. "We don't want to take reps away from them in those positions."
Webb added that no matter whom the quarterback is, the team would welcome him and support him.
"They want the best kid back there," Webb said. "Right now they're really just worrying about themselves and trying to figure out what they're supposed to do. They're not really worried about that. I think they trust the coaches and position coaches to make the right decision on who's going to give them the best chance to win."
And Bryant, who can often be found going to the movies or just hanging out throwing a football with teammate and wide receiver Bryan Dudley, has fit in well with his now not-so new teammates.
"I really like them," Bryant said. "The chemistry is really good with everybody. We have a whole lot of fun, there's not a whole lot of fighting amongst the other guys, so I think we're going to be a pretty good team altogether."