Five seniors to lead Lady Cards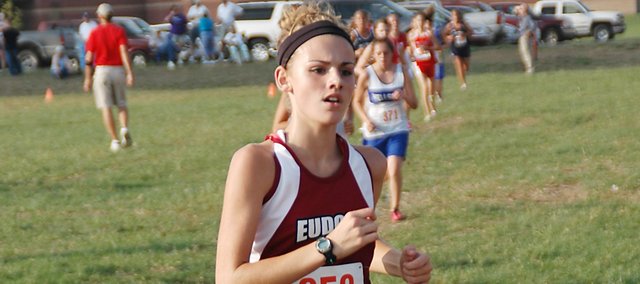 You could say the Eudora girls cross country squad is coming off a good run. The girls have been to the state meet for the last five years, and coach Paul Boone expects them to be there again this year.
"We're always striving to get more kids into state and more medalists at state," Boone said. "That's definitely our goal as we develop kids. We want to make sure every kid is running to their potential at the same time."
The girls squad lost two seniors from last year, including all-state performer Emily Ballock. But Boone said this year's team, which features five seniors, had the leadership to fill that void.
"Every year you've just got to step up," he said. "It's a neat opportunity for our underclassmen and our seniors that are stepping in to be able to fill that role."
Key returnees for the girls are seniors Liz Hoese and Bre Miller and sophomore Kaya Riemann. Boone said those girls were ready to emerge as leaders.
"What we ask them to do is a lot of leadership is lead by example," Boone said. "And we have just been fortunate to have kids step in to leadership roles and setting the stage as far as workout effort and getting out and taking care of business and not worrying about things they can't control.
"We've had a lot of great leaders just lead by example, and these gals fit right in there. They tie in. They bring kids in around them. They are encouragers. I really appreciate the things that they're doing and will continue to do."
On the boys squad, Boone has five upperclassmen he hopes will lead the team, including senior second-year runner Colby Root and junior John Hadle.
"He's been really positive and looking good right now," Boone said of Root. "And John's looking good. He's had a better summer than he's had in the past, so we're excited about him as well."
Boone also expects Root's fellow senior Chase Brecheisen to complement the squad, especially since Brecheisen had the best summer of his career.
"I think our guys are really going to mesh well this year," Boone said. "I really like the feel of our team."
The Cardinals began two-a-day practices Monday morning, and Boone said every year the practice routine is a little bit different to keep the kids in good physical condition.
"We just adapt every year to what we've got," Boone said. "That's one of the things that I guess I've learned over the years is that you just can't cookie-cutter workouts. There's only so much that a person can do based on what they can handle mileage-wise.
"We really watch kids closely and see how they're handling the mileage we put on and adapt. One of our biggest goals is to compete healthy. It's so much more fun to be running and feeling good. You definitely need to stress some, but our focus is to make sure we don't cross that line and overstress."
Boone said he was impressed with his team's approach during practice and that the kids were eager to try something new and get better every day.
"We got in the miles we needed to get in, and we're eager to move," Boone said of his team's first day of practice.
The Cardinals first run is the Anderson County meet, which starts at 4 p.m. Sept. 4 at Garnett.