Middle of the road the goal for Eudora soccer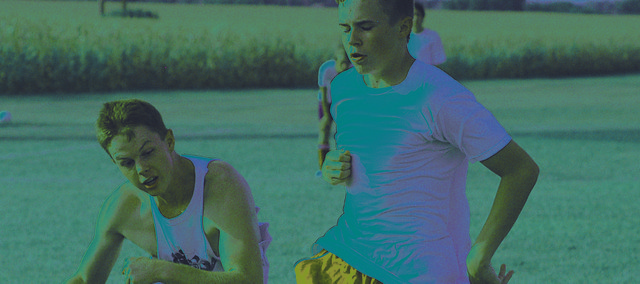 Eudora soccer coach Gunar Harmon is hoping that one year can make a difference.
"Last year's senior class, I was their third head coach," Harmon said. "So I was trying to reinvent the wheel a couple times. And they did very well, but you could tell they were pretty much set in their ways."
Harmon said last year was a learning experience for both him and the players, as they were getting acclimated with each other and figuring out what worked on the pitch and what did not. Eudora had 13 seniors last year and won a playoff game for the second year in a row. And with the Eudora soccer program still in its infancy, the coach is hoping for steady improvement in the standings.
"I'm hoping to finish in the middle of the table," Harmon said. "There are teams last year that played strongly that lost a lot of talent this year. We're definitely one of the small schools, so in the pecking order of schools like Gardner or Ottawa or Louisburg or De Soto, those are the tough games."
Harmon noted his team shouldn't be counted out against those opponents and that Eudora should be competitive against Paola, Spring Hill, Baldwin and Tonganoxie.
"Half our schedule favors us; half our schedule is harder," he said. "Nothing's promised to us, but I really think that we have - in the second year of our program - to find out where we're at because I'm more familiar with the players."
Harmon will have six seniors to help lead the squad. They are first-year player Jackson Wiley, returning veteran defenders Derick Scrimsher and Kayla Chilcoat, forwards Carlos Canizales and Aslan Hague and goalkeeper Ben Miller.
"I'm expecting him to pick up where he left off last year," Harmon said of Miller. "I know he's been working in the offseason. I haven't seen him play his position in a competitive environment yet but we've still got two weeks to go before our first game."
Harmon said Miller has performed well in breakaway situations at the net, which often enables Eudora to use its team speed, which should be a major asset as the Cardinals have several track members on the team. Harmon said he hadn't yet picked out his top 11 players, but said the positions will work themselves out.
"This year I got a lot of fresh bodies," Harmon said. "I got 12 or 13 new faces, and it gives a lot of opportunity to coach for the future."
In the near future, the coach is anticipating the possible addition of about three foreign exchange students to go with the 19 players currently practicing. Like the exchange students, Harmon did not grow up in the United States.
"My approach to the game is I grew up in a foreign country," he said. "The game is much more intrinsic and it's expected to be a thought process like a foreign language. And that's essentially what I'm teaching, that they have to learn to think the game and it's not just the actions you take, there's a process, there's a purpose and that's the part that I'm trying to get them to teach."
The Cardinals will open their season after the junior varsity game, which starts at 4:30 p.m., Sept. 4 at Ottawa.