New librarian spreads enthusiasm for reading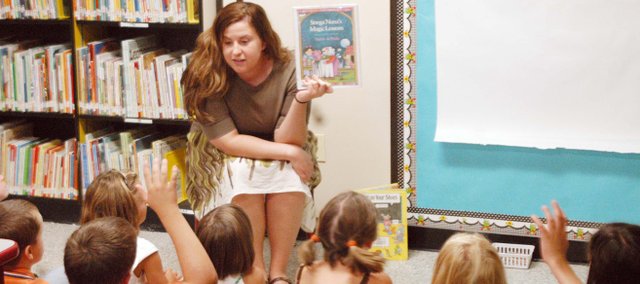 Other than the fact that she loves to read and hopes her students will too, new elementary school library media specialist Kaydean Foster doesn't fit the stereotype of a librarian.
Foster, 25, loves to sky dive.
"It was just something I wanted to go do. It was just a random Saturday, and I went and jumped out of a plane," she laughed.
She had some anxiety right before she jumped out of the plane on that random Saturday, but not for the reason you might think.
"I think the only reason why I jumped and wasn't scared was because my shoelace got untied and I was walking to the door," Foster said. "I was worried that my shoe was going to fall off of my foot and I was just focused on my shoelace and didn't even think I was jumping out of a plane."
She has gone six times and needs to go 15 more times to become certified. Once she is certified, the cost will drop and she hopes to sky dive all over the world.
Foster is the new library media specialist who have been hired by the USD 491.
She will work at both West and Nottingham Elementary Schools.
She had wanted to take library classes during her undergraduate work at Emporia State University - where she graduated with a bachelor's degree in elementary education - but was told the classes were part of a graduate program.
So, after teaching third grade and then first grade
during a two-year span, she decided to get her master's degree in education with emphasis in library media specialist.
"I was just kind of waiting but then I thought 'life's too short. It's time to get the degree I want to get,'" Foster said. "It's not that I don't love the classroom, but I just really want to instill a love of reading in the students."
She also hopes to provide students with and understanding of the different genres of books, especially the fact that books are great reference resources.
"Students think that the Internet is the only way you can find information," Foster said. "I want to teach them that books also provide them with information and they're not just something that are recreational, but also are informational."
Foster's library sessions with students last about 30 minutes, and she uses many different activities to keep them engaged during the whole time.
"We feel really good about Kaydean," Superintendent of Schools Don Grosdidier said. "She brings a lot of enthusiasm to the position and that's something we need, so we're excited about that."