Pascal Fish's 1846 helping hand brings re-enactment of Mormon trek to Eudora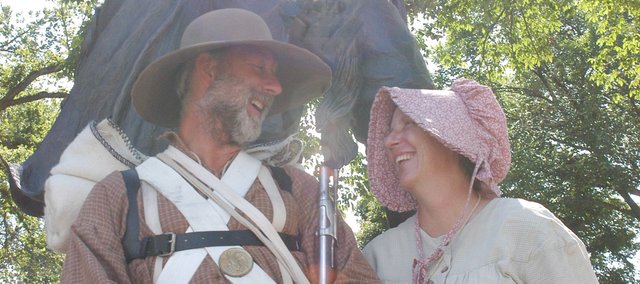 Although it has taken Kevin Henson 42 days to walk to Eudora from Thayer, Iowa his handshake is resolute and there's a glint in his eyes that leads you to believe he will not falter during the course of what is expected to be a six-month journey.
Henson is re-enacting the Mormon Battalion Trek of 1846, in which members of the Church of Jesus Christ of Latter-day Saints were mustered into service for the U.S. Army during the Mexican-American War and marched more than 2,000 miles to occupy what then was referred to as "upper Mexico."
They were mustered out of service in Los Angeles, and at the time the trek was the longest infantry march in U.S. military history.
Using journals written by those on the trek, Henson is trying to duplicate the trail taken by the battalion in 1846. However, land ownership and progress have not made that an easy task.
"You can't go the prairie route anymore," Henson said. "Thank goodness there are some wonderful people along some of the trails who say, 'This is important. I give rights to the American people to touch their history.' My hat is off to those people. They get it; they understand it. The other people, they plow it under and it's gone."
Henson, who today is dressed like an extra from "Little House On The Prairie," isn't alone on his journey, and he is accompanied by his wife, Denny. Also accompanying him are members of the board of directors for the Battalion Trek, LLC - which is a non-profit organization.
They follow him in vehicles, towing a porta-potty and other supplies.
His hike brought him through Eudora because journal entries spoke of Paschal Fish, with one soldier even writing of lagging behind by one day and receiving help crossing the Kansas River from a Native American missionary. Henson, who is a semi-retired teacher from Midland, Mich., and others have surmised this good Samaritan likely was Fish.
Henson wanted to spend a little extra time in Eudora to see the Paschal Fish statue at CPA Park, and as he sat in the statue's shadow he spoke passionately about the importance of preserving history.
"Eudora is one of those communities where I scheduled things so that I would have a half day to try to talk to some people or at least make contacts who I can follow up with later," he said. "The dedication of the statue last year and a little bit of the history that's here on the plaque and the investment of the people whose names are here speaks to devotion, duty and faith to not just their past, but also their future. I think that's part of what I'm learning is coming out of this experience."
Henson would like to see more accessible walking trails throughout the country. The lack of safe walkways in Eudora to cross Kansas Highway 10 further illustrate a need.
"Certainly, determining corridors that can be used for education and recreational events is important," he said. "The efforts to identify and maintain trails add to our enjoyment of who we are, how we got here and provide a metaphor for the future. Those are things that we need to pay attention to and put into the mix when planning for the future"
The Hensons have been impressed by the kindness of strangers during the trip, even to the degree that their hope in people has been restored.
"Everybody wants to know if we're broken down and they ask us if they can help us," Denny Henson said. "It's just been marvelous."
Kevin Henson wasn't driven to make the trip for profit, but to educate people. People are able to join him during his trek for a small fee of between $15 or $50 a day, depending on the level of participation.
"We're looking to reinvest our past into our present," Battalion Trek Board Member Paul Sandor said. "When Kevin can get with a group of kids and walk them across a river, you see their whole countenance expand."
Though the plan is to pull into San Diego in January, there may be some longer days because the Hensons just found out their daughter is pregnant.
The journey hasn't been easy, and Kevin knows there are challenges ahead. But Denny said Kevin is as happy as she has seen him in some time.
"Kevin's countenance has changed since he started walking," Denny said. "He spent one year in the basement of our house planning and plotting in front of the computer screen and when he started walking, his eyes started sparkling and they weren't bloodshot anymore. He was just a happier person.
"He'd get so excited when he would see the deer or wildlife. It can just lift your whole spirit to get out and appreciate natural beauty."
For more information or to follow Kevin Henson's progress, go to
www.battaliontrek.com .