Rebounding from heartbreak
Football team trying to fill holes before opener with Spring Hill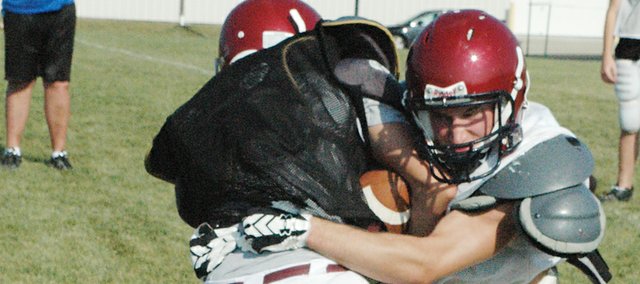 Heartbreak is something the Eudora Cardinals want to avoid this year. For the second time in three years, Eudora lost in the first round of the playoffs. Last season it was a 13-8 defeat to Basehor-Linwood. Eudora also dropped its final regular season game to Baldwin City, finishing the year 8-2.
"Absolutely it stings," Eudora coach Gregg Webb said of his team's late season swoon. "We've still got that on our minds. I don't know if it's on these guys too bad. It's a new team, a new season and a lot of new faces, so the challenges are a little bit different.
"We're just trying to get better every day and every practice so hopefully we'll get the chance again at 8-0."
To duplicate or better its eight wins from a season ago, Eudora has to overcome the loss of 15 starters.
"I think we've just got to find the right mixture and chemistry and get the right kids in positions," Webb said. "We've got a lot of different positions that are working themselves out."
The most notable position that remains unsettled for the Cardinals is quarterback. Gone is Brynnen Webb to graduation, Ben Katzenmeier is not out for football and Evan Cleveland is still recovering from injury. The race for the job has narrowed since the beginning of practice from four contenders to three. Sophomore Christian Richardson, junior Drew Noble and senior Zach Bryant are still locked in a tight battle. Of the trio, only Noble has game experience at the position. Last year he was 3-5 for (- 3) yards passing. Richardson, who split time as a wide receiver and defensive back last year, is more of a runner than thrower. Bryant is a transfer student who has a good arm but hasn't played football competitively since his freshman year at Wichita Northwest. Bryant played quarterback this summer during 7-on-7 and has also played safety in practice.
Webb said that he likely wouldn't make a decision on who the starter was until after the team's scrimmage Saturday or early next week.
"Everyone of them has got some positives and everyone of them has got their deficiencies, but we're figuring it out," Webb said. "I love the competition, and I love the competitiveness of our kids. It could end up to be a platoon system, and that's okay."
Webb said that the team would rally around whoever manned the position.
In the backfield the Cardinals have lost 1,000-yard rusher Travis Clarke but have an experienced replacement in senior Ryan Fisher who ran for 898 yards last season.
"Ryan Fisher is going to be a talented tailback for us, and everybody kind of looks up to him, our upperclassmen kind of look up to him. He works so hard," Webb said.
At wide receiver the Cardinals have lost Matthew Abel but have a key returnee in Bryan Dudley who caught 12 passes for 161 yards last year. And up front, senior guard Cody Carlson and junior Colton Lynch will anchor an offensive line that must replace three starters. Carlson said he enjoyed the first week of practice for particularly one reason.
"We're all having fun," Carlson said with a wide smile. "We finally got the pads on and we're hitting each other, so it's a good time."
This season Eudora will have players play both ways and Carlson will be one of them, playing defensive tackle. Carlson said he wasn't worried about playing defense. Last year was the first year he didn't have to play both ways since seventh grade. This summer, knowing he'd likely play on both sides of the ball, he worked extra hard in the weight room.
"I'm just trying to set an example and be a leader," Carlson said. "I have confidence in our offensive line and our defensive line."
The defensive front will be led by defensive end Logan Alvarez who recorded 22 tackles and led the team with seven sacks a season ago. Cody Potter, Jake Lawrence and Carlson will all be counted on to be disruptive at the point of attack. And in the secondary, Christian Richardson could see plenty of time there again. Last season he recorded 22 tackles and picked off two passes.
Eudora will open its season Sept. 5 at Spring Hill, and Webb said his team was capable of starting the year on a winning streak and finishing on one.
"I think we have the potential to be a solid football team," Webb said.
More like this story