Team lacks heighth, but will try to offset shortcomings with speed, defense in '08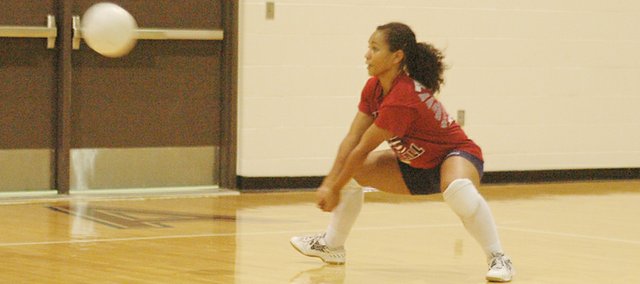 Eudora Cardinals volleyball coach Jill Stutler is used to having teams that lack height. But now she has only two experienced varsity players to go with it.
"We don't have any height," Stutler said. "Our strength is going to be our quickness and our defense. We have, through camp, through practice we're really emphasizing quickness to the ball and that relentless pursuit after the ball hits. You know, we've always struggled at blocking and this is going to be our shortest team yet. But that's okay. There are other things we can do to make up for that."
Stutler will look to her four seniors of Mariah Webb, Kendal Abel, Miranda Cobell and Tianna Dunnaway to lead a group of four juniors and 13 underclassmen, 10 of them freshmen.
"Overall varsity experience, Kendall and Mariah are it," Stutler said. "So overall with the group, we'll have some learning curve as a whole but they're working really well together. They're practicing well together and we've seen a lot of progress the last
few days."
Abel is a veteran outside hitter who stands about 5-foot-4, and Webb is a three-year setter at 5-foot-6.
"Her responsibility is to be the coach out there, direct things for us," Stutler said of Webb. "Kendal is a great leader, communicates with everybody, keeps everybody focused and excited. She doesn't allow us to think about our mistakes and is great at getting them focusing on doing things better."
Abel and Webb have been solid through summer conditioning and now practice, and Abel said this year's squad would have to rely more on its ability to defend the net than before.
"This year we're going to have to work on our defense like no other," Abel said. "We're going to have to play around the block and through the block and just try to intimidate them by just getting up there. But we're going to have to be pretty scrappy this year."
Key losses from last year's squad include Nikki Snider, Elaina Kouri and Kayci Vickers. In addition, Haley Epperson is not playing this year.
"I'm going to have to step up my game," Abel said. "Kayci was a huge help in the back row for us so Nikki and Elaina could hit, and losing them this year is going to be pretty tough to fill their spots, but hopefully I can put some (spikes) down."
Filling the spots of Kouri, Vickers and Epperson this year could be a freshmen trio of Jennifer Bowser, Austin Katzfey and Katelyn Abel.
"They've all been working hard," Abel said. "They've come in at a much faster pace with coach Stutler and they've been taking it pretty well."
Stutler said that despite the team's youth, the Cardinals could make up for their inexperience with their young talent.
"This freshman class coming in is very athletic," she said. "We're just trying to speed up the learning process for them. And we've got some kids that were on JV last year who could end up seeing playing time on varsity."
Last year the Cardinals fell to St. James Academy in sub-state and ended with a 30-10 overall record. The season-ending loss, however, is still in the minds of Stutler's seniors.
"I think those seniors that are back this year will all remember what that felt like, and they're doing everything they can right now in practice," Stutler said.
Eudora's season begins Tuesday at Bonner Springs, and Stutler said she'd know much more about her young team soon.
"I'll feel more comfortable probably two weeks into the season to get a good gauge where we are once we start playing," Stutler said.