7th-grader is runner-up in statewide essay contest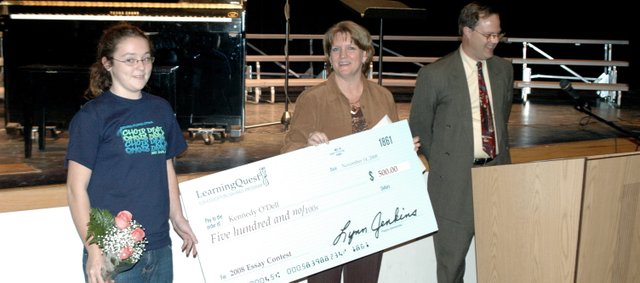 It's rare for most people to get paid for doing something they love. On Tuesday, Eudora Middle School seventh-grader Kennedy O'Dell got small taste of what it feels like.
O'Dell received $500 toward college as the runner-up in the 2008 Learning Quest Back-to-School Essay Contest, which was sponsored by the Kansas State Treasurer's Office.
"I'm very excited because I've never really entered any contests, so this is really cool," she said.
O'Dell didn't know she had won and wasn't told until it was announced by her English teacher Denise Kendall during a seventh-grade assembly at EMS.
About 1,500 seventh-graders throughout Kansas participated in the contest. Students were asked how they could make a positive impact on the world.
In her essay, O'Dell wrote that it would be difficult to change the whole world. So, she proposed changing the world one person at a time, starting with herself.
"I know that I can't do everything I want to make the world a better place, but I'm going to try," O'Dell said. "We can't ask the whole world to go out there and be perfect, so you've got to try to ask just one person."
She said she would try to purchase food grown locally in order to help farmers and save on gas usage.
O'Dell came up with the idea after listening to a book on tape about how eco-friendly it is to buy locally grown food.
A garden O'Dell and her mother Amy Booth already had started growing as part of a 4-H activity also contributed to the idea.
"We started to realize how much of that food could stay in our area, and when she (Kennedy) started thinking about that, she thought it was the perfect writing idea," Booth said. "It was a neat way to approach it."
Kendall, who has been teaching in Eudora for 20 years, was not surprised when she heard O'Dell had won the award.
She said O'Dell has made an impact in the classroom by jumpstarting her classmates during brainstorming sessions.
"She is a very creative writer," Kendall said. "She's one who will help other students in the classroom if they're having trouble coming up with something. She's really good about that."
Her father, Ben O'Dell, said he was not only proud of her accomplishments, but also proud that she enjoys academics.
"I'm proud of the fact that she enjoys writing," he said. "I think that's kind of rare."
Kennedy would like to be a writer or a prosecuting attorney.