Cardinals topple Santa Fe Trail in season opening dual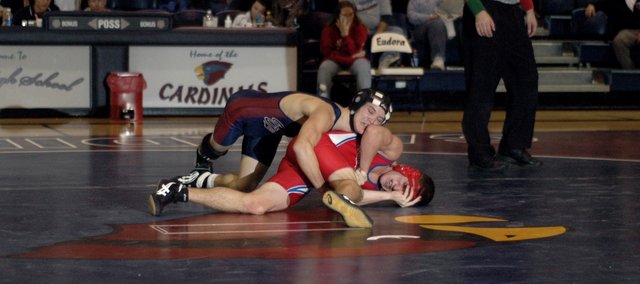 Eudora began its dual with Santa Fe Trail down six points before the first match. The Cardinals had an open spot in the 103-pound weight class because junior Ryan Pennington was out with a shoulder injury.
The Cardinals soon made up for those points and topped the Chargers, 34-30, Tuesday night at Eudora.
"Great way to start the year because Santa Fe Trail is a good team," Eudora coach Bill DeWitt said. "There weren't a whole lot of pins, but we got some bonus points."
Eudora's varsity squad trailed near the end of the dual, but Ethan Becker, Caleb Clayton-Molby and Boomer Mays were victorious to give Eudora a seven-point lead with one match remaining.
"Boomer getting that eight-point victory near the end was big," DeWitt said. "And Jonathan Morrison, even though he lost the battle at the end, he preserved the win for us."
Becker won his match, 15-2, and Mays defeated his opponent, 13-5. The Cardinals also got strong performances from seniors Derek Scrimsher, Jackson Wiley and Max Campbell.
"Our seniors did step up a little bit," DeWitt said. "They gave us some good matches and when we had guys on their backs we got the pin. That was nice to see."
Senior Alex Tacke did not wrestle last year but is out for the squad this year. Tacke, who wrestled in the 125-pound weight class, led his opponent early and had his opponent in a cradle. But his opponent came back to win the match, 15-8. DeWitt said Tacke just needed a little more time to get used to wrestling again.
"He's got to get his mat-sense back," DeWitt said. "He had a great first period and got the cradle but didn't get in good position and the kid flipped him and tied it up."
Tacke, who ran cross country in the fall, said even though he was in shape from running miles at a time, he said wrestling was a challenge.
"It's so different," Tacke said. "In cross country I was running for 20 minutes and here I'm going all out for six minutes against another man. It's tough."
Tacke said Eudora needed to work on its conditioning. and DeWitt felt the same.
"All of our conditioning needs to get better," DeWitt said. "But from a technique standpoint we did some good things. And from a toughness standpoint we battled and had some tough matches.
"It was a good start for us. We haven't been able to beat them (Santa Fe Trail). We've come close the last couple years but this is the first time I've been able to beat them here at Eudora."
DeWitt said that despite the win, the team still had much it could improve on in the coming weeks.
"Now we know some areas that we have to get better," De Witt said. "Some of these kids are frustrated that they didn't win their match but their attitudes are good and they want to get back in there and they want to fix some of those things."
Next up for the Cardinals is the Tilton-Worley tournament Saturday at Atchison.
"We won a tough dual today and I think we should be competitive," DeWitt said. "And I'm looking forward to that."
The Cardinals will then return home for the Eudora Tournament of Champions Dec. 12 and 13.