Home schedule could give girls early edge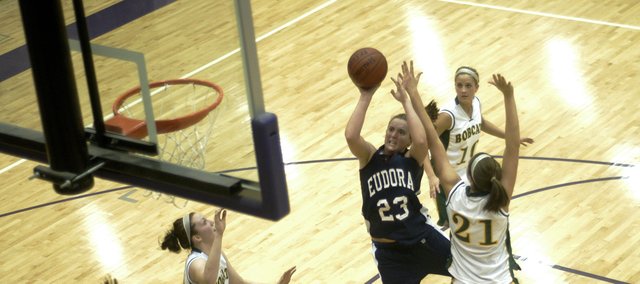 The Eudora Cardinals girls basketball team is staying home this holiday season. No, the Cardinals haven't been knocked out of a tournament or anything like that. They are, however, playing their first six games of the year at home.
"That's going to be nice," Eudora coach Ryan Luke said. "So hopefully by the time we get done with those six games, we've learned a lot about our team and what we need to work on and get better at over break."
The Cardinals do not play a road game until Jan. 9 at Baldwin, but they open the season Thursday night at home against Anderson County. The Cardinals began practicing three weeks ago, and Luke said the team had improved every practice.
"We're going to really work on a lot of half-court offensive stuff and really concentrating on what we need to improve," Luke said. "And that can be challenging at times for us. But when we get ready to play Thursday, we'll be ready."
Anderson County played Eudora tough last season, and Luke said it would likely be a tough opponent again.
"They're going to be a really good team," Luke said. "They sit in a zone defense and they got basically all of their players back. It's going to be a good first game. It's definitely going to be challenging for us."
Eudora went 19-4 last year and ended its season with a loss to Basehor-Linwood in the sub-state championship game. The Cardinals tied for the best record in the league last year and will have to play this season without Emily Ballock and Nikki Snider who both have graduated.
Ballock was a first team All-League selection and was named MVP of the Frontier League, and Snider was an All-League honorable mention pick last year.
Though Ballock and Snider could be tough to replace, Eudora returns three starters from last year's squad in Haley Epperson, Rachel Pyle and Bailey Scott.
Epperson was a second team All-League performer last year and averaged 11 points a game. Scott was one of Eudora's top scorers a year ago, and Pyle was the team's point-guard. Eudora also returns seniors Kendal Abel and Mariah Webb. Senior Tianna Dunnaway is also playing basketball this year.
"We have a good core group coming back," Luke said. "We just have to get some experience from our bench play."
One player who could log substantial minutes is junior Shea Lounsbury. Lounsbury could spell Epperson in the post.
"Shea didn't play much varsity last year but she's stepped in and done a good job," Luke said.
Luke said the only concern he had about the team right now was a little bit of inexperience.
"I think we just need to grow and develop some depth," Luke said. "I think we have a pretty good core of seniors that are going to be pretty good. But we're going to have to develop some depth and take our game to the next level to the state tournament."
After its six-game homestand and road game at Baldwin, Eudora will play at De Soto and then play in the Tonganoxie Invitational beginning Jan. 19. Eudora will close out the regular season with five home games and four on the road.
As the Cardinals begin their 2008-09 season, it's not too early for Luke to look ahead to a second season — the state tournament, where his team hopes to be playing in March.
"I always think we have a chance to make it," Luke said. "We've been in the sub-state championship the last two years. Our goal is to be conference champs and also make it to state. Those are always our goals."