Cardinals dunk Bulldogs 46-35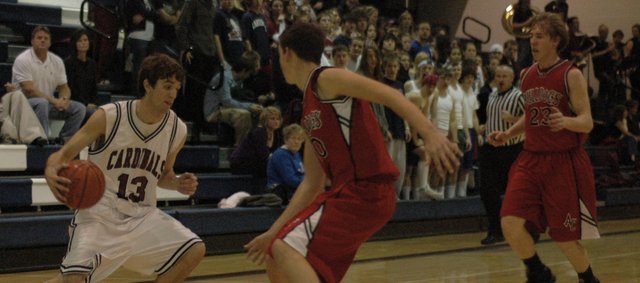 Justin Ballock tossed in a team-high 15 points and threw down one emphatic dunk in the fourth quarter as Eudora cruised past Anderson County, 46-35, Friday night at Eudora.
Ballock, a junior, took charge of Eudora's offense early and scored six points in the opening frame. Eudora (1-0) was quicker than the Bulldogs and used its guards to drive to the paint and score inside. Ballock scored six points in the first quarter for the Cardinals.
"I wanted to just come out and make a statement and get a good read real fast," Ballock said.
Brian Katzfey added 10 points and post players Cody Carlson and Michael Bricker both scored six points to help Eudora's attack.
The Cardinals defense stiffened in the third quarter as it held the Bulldogs to just two points for the quarter. Eudora eventually grew its lead to 46-32 with a minute to play and held on for the 11-point win. But the highlight of the night came with 3:30 left in the fourth quarter when Ballock had the ball and saw a lane to the rim open up.
"I just saw the opening to the right, and we sealed it and I just went up and dunked it and the crowd was going crazy," Ballock said. Ballock was fouled on the play and made the free throw.
Carlson said Ballock's performance was indicative of the Cardinals as a team.
"Justin's our best player and we feed off him," Carlson said. "His talent is amazing and we just go with him. When he's good, we're good."
Carlson, who is known for his rugged play as the Cardinals' left guard on the offensive line, said he was amazed to see Ballock's thunderous dunk. He also said he wouldn't be throwing one down anytime soon.
"Oh, no. I can barely jump," the 6-foot-2 Carlson said when asked if he could dunk. "I can't get off the floor to save my life. I'm happy with my physique."
Carlson, who weighs about 265 pounds, also played rugged down low against the Bulldogs front line. Carlson fouled out late in the fourth quarter.
"I'm a physical player and you foul out sometimes," he said with a smile. "It happens."
Bricker also banged around in the paint Friday night. The 6-foot-6 senior said he didn't have much trouble getting his opponent on his back.
"They weren't as strong as some I've played before, so it was easy to get in there and push tem around a bit," Bricker said.
Like Ballock, Bricker can also dunk and he said Ballock's jam pumped the team up to play harder, even though Eudora was comfortably ahead at the time of the dunk.
"He's out there and he gets us down the floor and that kind of motivates us, especially after that dunk everybody's hyped and the gym's going crazy and that just steps your level of game up," Bricker said.
Anderson County made a final push late in the game, but Eudora's Drew Noble hit three of four free throws down the stretch to preserve the win for the Cardinals. Next up for Eudora is Bishop Ward Monday night at the Paola Invitational. Tipoff is set for 5:30 p.m.
"They've been ready to play for a while and it was nice to get this game out of the way," Eudora coach Kyle Deterding said. "Ward's already played a game, too, so we'll both be playing our second game. We'll be on even playing ground with them."
Score by quarters
1 2 3 4 F
Anderson County 9 7 2 17 35
Eudora 13 9 9 15 46
Anderson County -- Chance Lowe 1-11 3-9 5; Ethan Schillig 2-7 4-4 8; Mike Hermeck 2-7 3-4 8; Rudy Salazar 1-3 1-2 3; Tyler Rockers 2-6 3-4 7; Brendon Dennison 1-3 2-2 4.
Eudora – Craig Harper 1-1 0-0 2; Evan Cleveland 1-1 0-0 3; Justin Ballock 6-13 3-4 15; Brian Katzfey 3-11 4-8 10; Cody Carlson 3-3 0-0 6; Drew Noble 0-6 4-6 4; Michael Bricker 2-4 2-2 6.